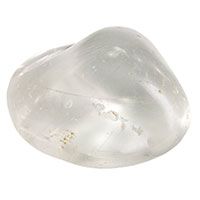 Affirmation(s): "I am radiant and filled with light."
Clear Quartz is a multi-use crystal that is helpful to all zodiac signs and all seven chakras. Known for its powers to amplify and enhance, this is a healing crystal unlike any other.
It is one of the most powerful stones to work with because it acts as an energy conduit and amplifies the energies of other crystals. It also works to increase your own energies or intentions, making it extremely effective when used in conjunction with manifestation or affirmations.
It can help us with learning to accept our circumstances, finding emotional balance and harmony, as well as reducing stress and tension.
Clear quartz clears negative energy from the body and the space surrounding it, purifying and enhancing the aura. Leave it around your home/office space to clear negative energy.
This stone also works to increase the energies of other stones you work with. Use it along with other crystals in your collection, especially along your crystal healing grid, to feel the benefits of the other stones more strongly.