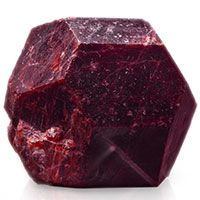 Affirmation(s): "I am loyal to everyone."
Garnet promotes love and attracts romance, making it an excellent stone to work with for anyone looking to increase the love in their life.
This crystal is particularly helpful for those under the signs of Leo, Virgo, Capricorn, and Aquarius, all signs where loyalty is of the utmost importance.
Garnet's primary chakra is the Root chakra, which relates to our basic survival needs and our need for security. This stone is thought to help with emotional issues such as self-esteem and to help those of us needing to learn about compassion, honesty, love, and loyalty.
This crystal is known as the "Stone of Commitment," and it will help you stay focused on your goals and dreams for the future. With increased focus and determination, this gem helps you tackle any item on your to-do list, which will bring you closer to your goals. 
Garnet also provides emotional strength during times of duress.
Working with or wearing Garnet can help us to heal and build from our own base to discover how we can provide for our own security and safety in life.