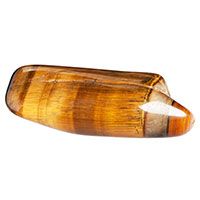 Color(s): Orange with black
Affirmation(s): "I am filled with light and warmth."
If we are looking to motivate ourselves to make a change or a commitment or are feeling depressed and self-critical, working with or keeping Golden Tiger's Eye near can provide protection and help us to find some sense of balance. Its warmth and brightness, both visually and vibrationally, can help us to find a way out of dark places.
For the zodiac signs Leo and Capricorn, it can be especially helpful with its properties of creativity—Leo to help augment innate curiosity and Capricorn to help extract it. 
The Solar Plexus chakra is its primary chakra, connected to taking control of our lives, independence, and self-discipline.
While each shade of Tiger's Eye works to attract abundance, it's Golden Tiger's Eye that has the most powerful effect. This particular hue enhances luck, grounds your energy, and grants you the security of knowing that you can handle whatever life has to throw at you. 
While this crystal isn't always associated with attracting financial wealth, it amplifies self-reliance – a trait that is crucial for becoming financially independent.
This stone can encourage us to try and tackle certain chores or challenging projects on our own to remind ourselves how capable we truly are. We don't always need to lean on an outside source for help or comfort.
How to Use Golden Tigers Eye
Golden Tiger's Eye is an excellent stone to work with while practicing meditation, most especially when working with the Law of Attraction.