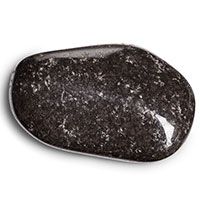 Affirmation(s): "I draw strength from my experiences."
Known for its properties of encouragement, strength, and protection, Onyx connects very closely to our primary chakra, the Root chakra. This is because both Onyx and our Root chakra connect to our sense of safety, security, and our physical identity or sense of self. 
The properties of this crystal are associated with grounding, which is particularly helpful for Leo and Capricorn, two signs who thrive on confidence in themselves to feel balanced and capable.
Because it helps to repel negative energy, use Onyx crystals on your desk, in your home, or simply wear it on your person. Carrying or wearing this stone will form a protective energy shield around you, helping you to remain grounded and balanced.