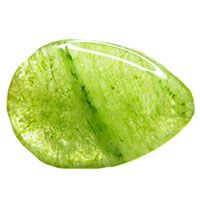 Affirmation(s): "I can detoxify and heal."
Peridot has healing energies that provide comfort and balance and can help dispel negativity. 
Its protective and healing properties can benefit those under the sign of Leo and Virgo, as it is the birthstone for August; however, all signs which can take on the role of healer in some way will find it beneficial. 
Peridot's primary chakra is the Heart chakra, which is connected to our relationships, transformation, and change.
This stone's energy can best be utilized when it is worn. Find a piece of jewelry with this stone or a crystal pendant to benefit from its properties. 
Working with or wearing Peridot can also be beneficial when dealing with anger, feelings associated with grief, and even irritability.