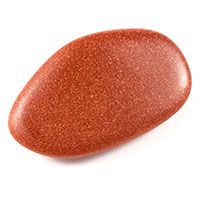 Color(s): Red/orange/yellow
Affirmation(s): "I sparkle and shine in the Universe."
Red Goldstone is an uplifting crystal that can be used to find your positivity, become more confident, seek higher levels of calm, and can encourage us to be more ambitious and driven. The little flecks of gold throughout the crystal are symbolic of the "light" you may find when using this stone during dark times.
Its primary chakra is the Root chakra, which connects to our sense of security and our basic needs. 
Especially helpful for those under the sign of Sagittarius, this protective crystal can help us return to our optimistic selves. Working with or wearing red goldstone can have a very uplifting effect.
Red Goldstone can be used for spiritual protection, making it a great stone to use during meditation. 
Hold on to a piece when you need to connect with your inner light or when you are searching for positivity.