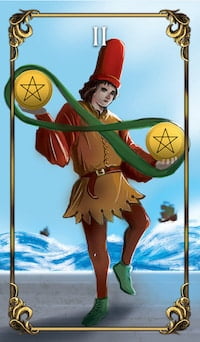 The person on the 2 of Pentacles Tarot card is balancing two pentacles in his hands with a line of karma tying the two together to form the infinity symbol. The number 2 in the Tarot often represents other parties or things that are dual in nature. There is a balancing act between two parties or two things in your day or life at this time. You may spend the day going back and forth on various matters. The line between the two pentacles is an infinity symbol, suggesting the things you are balancing today will be directly connected to your karma. Honest and fair dealings are advised while you manage this juggling act if you want things to work in your favor.
On the 2 of Pentacles, we see a person holding two pentacles, with one in each hand. Connecting these two pentacles between the hands is a symbolic rope or tie that makes the shape of the infinity symbol, suggesting a strong connection with karma in this Tarot card. The man's face on this card is not too concerned but is not overly joyful either. He is focused on the task at hand, juggling the two pentacles back and forth along the invisible line of karma we all walk every day.
As pentacles represent Earthly and practical matters, this card suggests a balancing act between finances and material things. However, pentacles also often represent the practical matter of messages, so this could indicate a balancing act between messages or people as well.