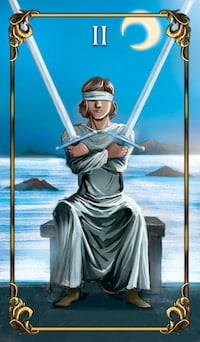 There is a sense of no sudden movement with the 2 of Swords Tarot card, and sometimes that is okay. Sometimes the darkness of cards implies a dark or foreboding future, but with this card, this is not the case. We live in a world of instant gratification and always want to be on the move. This Tarot card says the opposite is required in love, work, and life.
This woman on the 2 of Swords may be at a crossroads with these swords, but she is in no hurry to get anywhere anytime soon. She is calm and at peace with her journey. Find a space today where you can do the same.
In the 2 of Swords Tarot card, we see a woman seated and blindfolded. The sky is dark, and the Moon is overhead in the sky, giving us the impression it is nighttime, possibly during the wee sleeping hours. The woman is not only blindfolded, but she holds two swords crossed before her. There is no movement in this card.
Symbolically, the 2 of Swords is a card of not taking any action. The dark sky and the blindfold suggest the answers are not from the external world. You may receive answers from the dream world or from going within instead. Proceed with caution at this time.