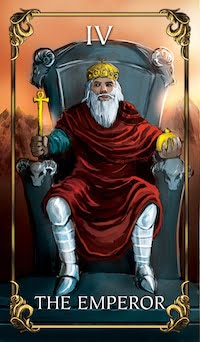 The Emperor Tarot card is symbolized by the number 4, representing order and structure in your life. He also symbolizes the zodiac sign Aries and could represent an Aries in your life if you see this card in a reading.
This card suggests you are about to realize your goals or are well in the process of starting something wonderful in that regard today. Its connection to Aries also signifies a form of leadership that could enter the situation, which may mean you are required to take the lead or control of an issue. A connection to authority could be important in your day today, and you could also simply need the advice of your dad or a similar fatherly figure. You may have a contractor or real estate agent visit the house today to start a big project or give you a quote. It's a great day to do so when you see the Emperor appear! New opportunities have a way of finding themselves in your path today. Seize the day, and build something extraordinary with it.
Here we have the archetypal male energy to the card right before it, The Empress. The Emperor is also associated with the zodiac sign, Aries, making the Emperor a solid leader in any Tarot reading. This is the male counterpart to the Empress, sitting on his throne of royalty and luxury. He embodies the spirit of Aries, is a natural-born leader, and has an air of authority around him, like an authority figure such as the ultimate Emperor. He may be a boss or a law enforcement figure in your life or a lawyer, mayor, or President. This card sometimes symbolizes a father figure but also represents the ultimate father figure, Jupiter, the god of all gods. He could be an administrator or any number of lead managerial positions. He is a warm one, though, and exercises sound judgment with a father's love. He is older and thus wiser with his years and imparts wisdom and direction in a stable and structured way in your life. He's a root you can count on!