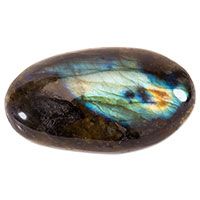 Color(s): Mixed; blue, green, yellow, red
Affirmation(s): "I embrace transformation in my life."
Labradorite's iridescence makes this stone highly identifiable, and these changing colors give it the name "Stone of Transformation." The more colors you see, the more energy is released.
This stone can be used to balance and protect our aura, and it is often used to promote intuition and higher consciousness. It is an excellent crystal for anyone looking to navigate change for the better as it is generally uplifting.
Labradorite is incredibly potent for zodiac signs Leo, Scorpio, and Sagittarius as they embrace their inner desire for change and growth. 
Its primary chakra is the Third Eye chakra, which is connected to our intuition and motivates our inspiration and creativity. This crystal can guide us on our path to strength and improve our feelings about our self-worth.
Labradorite is an excellent stone to use during meditation and when you are developing your intuition, whether through work with Tarot or other divination tools.
Placing this stone on your desk or keeping it close by while you work will help you stay focused on your goals.