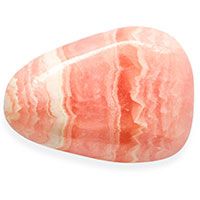 Affirmation(s): "When I treat myself and others with compassion, my spirit grows."
Rhodochrosite, with its endearing shades of pink, radiates love, plain and simple. This might be one of the most gentle pink stones as it soothes, comforts, and vibrates to the energies of inner peace; however, this stone is all about sending loving vibes to your own soul.  
Compassionate Rhodochrosite's primary chakra is the Heart chakra, helping with overall emotional wellbeing. 
It is known to help with emotional healing, first bringing awareness to ourselves before allowing us to extend ourselves too far and then encouraging empathy. It can even help promote creativity and self-esteem. 
This stone is particularly helpful for those under the signs of Leo and Scorpio, both of whom are capable of very deep love. Rhodochrosite can help us feel more kind and loving, even bringing comfort.
If you practice crystal therapy, place Rhodochrosite on the Heart chakra to promote healing. Place it on the Solar Plexus chakra to help move towards healing your self-esteem or dispel inner demons that might be holding you back from achieving your goals.