sagittarius Monthly Horoscope


For the Month of: December 2022
December - Happy Solar Return, sexy Sagittarius! The Sun continues to move through your sign, ushering in a celebratory atmosphere and a brand-new season of wins. Last month, a chaotic Lunar eclipse set a productive tone and put health at the forefront. Then, a New Moon in your sign gave you faith and confidence that your dreams are possible. As a result, your December monthly horoscope inspires creation, compassion, and well-grounded emotional expression. You are at your peak, so let it flow.
On December 1, a Mercury-Neptune square distorts your thinking, causing confusion and complications in your interactions and dealings with others. Avoid heavy tasks or responsibilities that require a lot of logic. Energies are low, so feed that with solitude and rest.
Then, on December 3, mystical Neptune goes direct in Pisces, triggering an intense stimulation of subconscious memories. This transit impacts your family life, home, and relationships with relatives. If you find the energy is too much to handle, tap into meditation and other spiritual methods of self-understanding and mindfulness. Spend your birthday season pouring into yourself with ample love, rest, and self-care
Chatty Mercury goes into resourceful Capricorn on December 6, turning up the volume on conversations about wealth and security, which will inspire a new level of financial worth. Discussions will be short, efficient, and straight to the point. Your thinking is methodical and focused, so concentrate on abundance, healing, and growth.
A Full Moon in Gemini arrives on December 7, illuminating the relationship sector of your chart. Full Moons are highly emotional and sensitive times representing a climax or a big release that marks a significant turning point in your life. Gemini is your opposite sign, so that the energies will create a substantial impact on your life.
Gemini inspires fun and flirty energy to pour into your relationships. Since Full Moons bring everything to the surface, you can expect essential conversations about the future of relationships, intimate or platonic, to occur. Avoid blowing up; instead, observe. You may learn something new to aid future relationships.
After adventure, exploration, and fun, Venus leaves your sign and enters Capricorn in your income and values sector. Again, you must set firm boundaries to prevent yourself from being used or taken advantage of and reflect on your financial status.
Fast-forward to December 20, Jupiter goes into Aries, which will remain until May 2023. Expect to strengthen your adventurous spirit, moral leadership ability, and self-sufficiency. Since Jupiter is your ruling planet, these energies will most influence you.
It's time to put the party hat away because Capricorn season begins on December 21, marking the start of Winter Solstice in the Northern hemisphere. During this time, the Sun in Capricorn clashes with Jupiter, and you'll want to avoid getting lost in egotistical pursuits of goals. In addition, you may experience a slight blockage between optimism in life and self. So take time to reassess your life; in self-reflection, you will thrive.
A New Moon in Capricorn occurs on December 23, and Chiron, the "Master/Healer," goes direct in Aries, acting as a catalyst for future abundance. New Moons are excellent times for releasing, recalibrating, setting intentions, and planting new seeds for the future. Since Capricorn inspires a business mindset, productivity, stability, and security are perfect things to meditate on as you enter a new year.
Finally, the month ends with Mercury going retrograde in Capricorn, bringing attention to your house of possessions, resources, and values. For the next three weeks, you must rethink what you choose to place value in; if chasing money and luxury is the only thing driving you, it will leave you feeling empty and unfilled. So instead, treat yourself to the simple things in life and find balance.
See you next year!
December's affirmation, "I choose to take leadership with my inspirations and take productive steps
toward building and achieving goals. I am grateful for what I have and welcome the new year with faith, optimism, and trust."
Make sure to check back every month to get your personalized astrological insight from our experts.
Want more information about your own personal astrology? Discover more about your zodiac sign, monthly transits, and your birth chart through our free resources.
Get Your Free Horoscopes Here
The Knight of Cups is always a welcome card in any reading, particularly in Tarot readings about love or romance. A wonderful invitation is on its way to you, or you may be the one receiving the invitation. This invitation may be anything from a new date if you are single, to a proposal if…
Let These Tarot Readings Help Guide You Through Your Day
Daily Gemstone & Crystal Reading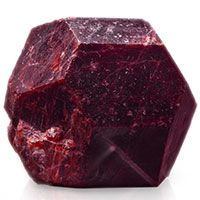 Garnet promotes love and attracts romance, making it an excellent stone to work with for anyone looking to increase the love in their life. This crystal is particularly helpful for those under the signs of Leo, Virgo, Capricorn, and Aquarius, all signs where loyalty is of the utmost importance. Garnet's…