sagittarius Monthly Horoscope


For the Month of: May 2023
May - Welcome to the merry month of May, Sagittarius. As the flowers bloom and the birds chirp, your adventurous spirit is ready to soar to new heights. This month, the energy is in full swing, bringing memories of days gone by and a strong nostalgia, along with adventures to new places and meeting new people. Power is also on your side this month. Whether it's the power of persuasion or the influence of your own will, you have what it takes to make things happen. Remember to use your powers for good and not evil- nobody likes a Sagittarius with a big head.
The month starts with Pluto retrograding in your communication sector on May 1. You might feel a little tongue-tied at first; however, this retrograde is an opportunity to examine how you communicate and express yourself. As Pluto moves back into your house of values, you'll find that your perspective on what truly matters in life is changing. You may discover that some things you once thought were important are no longer as valuable to you, while other things you may have overlooked before suddenly take on a new significance.
A Lunar eclipse in Scorpio arrives on May 5, like a mega spotlight on your life. A Lunar eclipse is a potent Full Moon, bringing about fated events. It's a time of intense energy and transformation, as the lunar eclipse marks the end of a cycle and the beginning of a new one. For you, dear Sagittarius, this Lunar eclipse in Scorpio is a time to slow down and take stock of your life. It's a time to reflect on your innermost desires and deepest fears and release any negative energy or limiting beliefs that may hold you back.
But don't worry; this doesn't mean you must sit silently and meditate for hours. You can still have fun and enjoy life while taking the time to rest and reflect. Maybe take a break from your usual high-energy activities and try something more relaxing, like a bubble bath or a yoga class.
It's time to dive deep into the waters of passion and attraction because Venus is swimming in Cancer on May 7 and making waves in your transformation sector. This powerful energy is all about sexual energy, intimacy, and transformation, and it's sure to make your heart skip a beat or two. With Venus in the mix, you'll find yourself irresistibly drawn to those who exude confidence, sensuality, and mystery. As a result, you'll feel more in touch with your desires and passions and may find yourself exploring new and exciting avenues of pleasure.
On May 16, Jupiter, your ruling planet, shifts into Taurus, calling for a focus on health, wellness, and revamping your daily routine. This powerful energy is all about grounding yourself and finding balance in your everyday life, and it's sure to bring some much-needed stability and structure and expand your work life. It's also about creating a routine that works for you and finding joy in the small, everyday moments.
Then, a New Moon in Taurus arrives on May 19, and this energy symbolizes new beginnings and fresh starts. New moons are a powerful time for manifestation and setting intentions. Think of it as a blank canvas - you get to decide what you want to create. So, take some time to reflect on what you truly desire, and set some intentions for the future. Maybe you want to prioritize self-care, start a new exercise routine, or focus on your career goals. Whatever it may be, the New Moon is here to support you in your journey.
Prepare to pack your bags and ignite your inner adventurer because Mars is entering fellow fire sign Leo on May 20. This powerful energy will shake things up and inspire you to explore new horizons. You're no stranger to adventure and exploration, but with Mars in Leo, you'll feel even more empowered and driven to take risks and try new things.
On May 21, the Sun enters your opposite sign Gemini, bringing a sense of playfulness and curiosity to your relationships. Whether you're single, looking to mingle, or already in a committed partnership, Gemini season is about exploring new connections and deepening existing ones.
Finally, the month closes with a Sun-Saturn square on May 28, reminding you to incorporate fun and playfulness into your daily routine, even amidst your responsibilities and obligations.
This month use cedarwood essential oil to amplify positive energy in your atmosphere. Citrine is a beautiful and powerful crystal associated with abundance, creativity, and manifestation. It can help boost positive energy and attract abundance and success.
May's mantra, "I am free to explore and expand, guided by my inner wisdom and intuition. I trust the universe to provide me with all I need to thrive."
Make sure to check back every month to get your personalized astrological insight from our experts.
Want more information about your own personal astrology? Discover more about your zodiac sign, monthly transits, and your birth chart through our free resources.
Get Your Free Horoscopes Here
The symbolism in the 3 of Swords is very raw and real. When life brings heartbreak, the Tarot offers the 3 of Swords. This can be heartbreak over any situation, romantic, or just a life experience that has caused some very real pain. Here is a heart that has been pierced by 3 swords. In…
Let These Tarot Readings Help Guide You Through Your Day
Daily Gemstone & Crystal Reading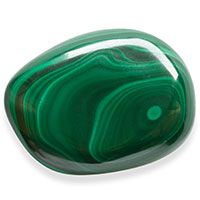 Malachite is most beloved for its healing properties and confidence-boosting reputation. Malachite offers protective and healing qualities, amplifying any change we wish to make in our lives.  This particular crystal is helpful for the intense signs of Scorpio and Capricorn who benefit from personal exploration.  Its primary chakra is our…