Dec 03, 2023 - This is an opportunity to truly get to know yourself and explore what lies within. This lunar energy will prove revealing for you and while the experiences may not have been entirely pleasant, it is time to enhance upon these revelations and call for deep growth and self-acceptance.
This is a significant time for you and brings much change of direction, even if not planned. Go with the flow and try not to resist the pull of the universe.
Remember, everything that is happening is for your higher good. Try not to let doubt or fear stand in your way. Trust in your own intuition and the wisdom from your higher self.
Get Your Free Horoscopes Here
When the 10 of Wands appears in a reading, the Tarot is sending the message that you are in the home stretch now. This card is much more optimistic than its symbolism appears. On the 10 of Wands, we see a lone figure carrying 10 wands on his own, plugging ahead on a long path…
Let These Tarot Readings Help Guide You Through Your Day
Daily Gemstone & Crystal Reading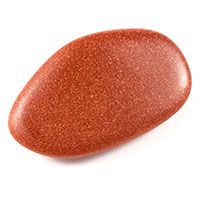 Red Goldstone is an uplifting crystal that can be used to find your positivity, become more confident, seek higher levels of calm, and can encourage us to be more ambitious and driven. The little flecks of gold throughout the crystal are symbolic of the "light" you may find when using…