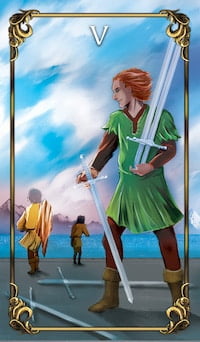 In the 5 of Swords Tarot card, we see a battle has been won, but it has not been won easily. Some wounds are visible, and the victory has been hollow.
Often this card appears when groups are involved, such as in a political office situation or in social settings where drama arises. The 5 of Swords corresponds with the energy of Air signs, which represent higher-level thinking and the use of sharp words and intellect on occasion. Although these themes can sometimes come in handy, sometimes words are used to maim, resulting in pain and wounds. You may have won the battle, but was it really worth it?
This card foretells a time of significant change, ups and downs, and many frustrations as you pursue your goals. Follow your intuition and keep your words and thoughts calm and clean, and you will win the victories in the long haul.
In the 5 of Swords Tarot card, we see a figure in the forefront holding tightly to three swords that he has gathered and is continuing to gather and hold close to his chest. We also see two figures in the background showing signs of defeat.
This is neither a light nor a dark card; however, it suggests a happy ending is not available at this time. A deep battle has been fought, and some scars have been created. The victor of the battle takes his opponent's weapons to keep them for himself for the next round. This is a double-edged card, like the swords. There is an almost certain victory, but at what cost?