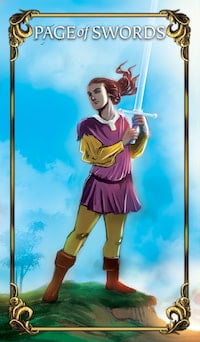 When the Page of Swords Tarot card arrives in your Tarot reading, keep your wits about you as intellect and rational logic are favored in your situation over emotional decision-making.
This Page brings with her news that will favor your situation. It is often delightful news that has a way of turning around your entire outlook. She is bright, curious, and intellectual. She is always seeking the truth and intelligent response. There could be some secrets at bay with the Page of Swords. She cuts through the confusion and cuts right to the chase. Don't expect your secrets to last long when the Page of Swords is around.
Pages in the Tarot often represent news or messages that will arrive to bring clarity to a situation. They can also often represent younger people who will help you reach your desired path.
With this Page, we see a young girl wielding a sword and swishing it through the air swiftly. This Page can represent a younger Air sign (Gemini, Libra, or Aquarius). She is yielding the sword of knowledge and truth and quickly cuts to the chase. Swords move quickly. If you see the Page of Swords Tarot card, know that the news you have been waiting for will arrive very soon!