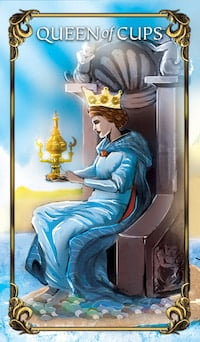 When the Queen of Cups Tarot card arrives in your day, a strong sense of love and compassion comes with her. She is a joy-filled person who seeks to ensure all those around her feel that same abundance of love. This could be you, offering nothing but joy and love to those around you. If she is not, then know no matter what the Queen of Cups brings to your day, she does so with loving and pure intentions. You can trust her because her empathic nature allows her to "get you" without you having to try too hard at all. When this Queen appears in your day, compassion and love come with her.
The Queen of Cups is an older woman that sits on her throne with a glorious and joy-filled smile. The Cups often represent Water signs, and the court cards, such as the Queen of Cups, often represent people entering your day. When the Queen of Cups arrives, this could be the Cardinal Water Sign appearing, meaning you may have an encounter with a Cancer woman today. The person this card represents is an emotional one. She is highly intuitive and even a little psychic. She is ruled by her emotions, her family life, and the love she has created.
Don't try to deceive this one. Her spidey senses are en pointe, and she will pick up on that cue faster than you can say her name. She may also represent an older woman with much love in your life or about to enter your life.