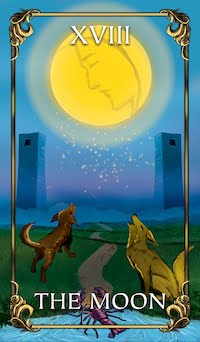 When The Moon appears in a Tarot reading, your intuition and emotions will prevail over intellect in your situation. This is a crucial reason this card symbolizes the intuitive Water sign, Pisces. Pisces is a reflector and uses their psychic gifts to ponder over situations and pull back to do so on occasion. Something is missing from the picture, or at least from your picture. You do not have all the facts to make any decisions, either in love or in play, at this time. Follow your heart and intuition, and don't be afraid to ask for psychic messages. Pull back and meditate or listen to your instinct. What is it telling you? The missing puzzle piece is there! It may not be available to you, but the night does not last.
The Moon Tarot card appearing in your reading is advisement that you are not clear of all of the details, and there is more at play in the situation than you may think. As the Moon pulls back in the night sky, so too does the querent in this situation. You are being asked to pull back. And this is why this card symbolizes the zodiac sign of Pisces, who is known for retreating to the cave on occasion. This is a darker card in the Tarot, but it does not necessarily have a dark interpretation. Rather, this card sometimes represents confusion and a lack of clarity on a key issue. Here we see The Moon up in the sky, surrounded by darkness and clouds.
There is more at play than meets the eye here, there is information that you do not have available to you that is pertinent to the situation you are asking about. The Moon rules intuition and emotions. These are the factors that you must use to seek clarity. Like the Full Moon in the sky shedding light on the world, it's time to pull back and look at your life and situation from the perspective of The Moon. What puzzle piece are you missing? When you pull back, The Moon reveals that missing piece.