For the Month of: November 2023
November - Welcome to the captivating realm of November, ambitious Virgo! If negativity has been creeping into your life, it's time to bid it farewell and embark on a journey of adjustment and spiritual awakening. This month's energy encourages you to break free from toxic situations. As the leaves fall, so should any lingering negativity. The vibes urge you to embrace a fresh perspective, one that fosters harmonious connections with others. It's a month for expanding your horizons and broadening your intellectual horizons. Your path to a more vibrant and enlightened you begins now.
November kicks off with Saturn making a bold move, moving direct in Pisces, on the 4th. This shift feels like a breath of fresh air for your relationships. If you've been feeling a bit of imbalance, patience is your ally now, as something fresh and electrifying is on the horizon. Saturn's forward motion brings stability and growth to your partnerships, so stay tuned for exciting developments in your love and social life.
On November 8, Venus glides into its ruling sign, Libra, settling comfortably in your financial sector. Venus in Libra ushers in a time of beauty, harmony, and heightened financial awareness. This is an ideal period for budgeting and enjoying life's finer pleasures. It's a chance to enhance your material world with a touch of elegance, all while keeping a watchful eye on your overall well-being.
Around the same time, Mercury forms a sextile with Pluto, adding depth and intensity to your communication skills. This aspect empowers you to delve into meaningful conversations, dig for hidden truths, and make influential connections. It's a moment of mental prowess, giving you the edge in your interactions. A few days later, your ruling planet, Mercury, packs its bags and heads into Sagittarius, lighting up your emotional world. You'll crave stimulating conversations with your loved ones, perhaps planning exciting journeys or delving into philosophical discussions within your own space. The atmosphere at home becomes lively and spirited, mirroring your zest for knowledge and new horizons.
November 13 brings forth a potent New Moon in the mystical sign of Scorpio, holding the power to manifest your deepest desires and intentions. This is your cue to set forth your aspirations, and with Scorpio's intensity, watch as they take root and grow.
Under this captivating lunar influence, your mind becomes fertile ground for innovation and new ideas. Dive deep into your thoughts and be open to exploring your passions. So, change, let go of what no longer serves you. It's time to initiate powerful transformations in your everyday life and communication style. Expect hidden topics or secrets to surface.
Fast-forward to November 20, and the third quarter moon in Pisces washes over you, providing a moment of reflection. It's the perfect opportunity to reevaluate various aspects of your life and restore balance where needed. Pisces' gentle and empathetic energy supports you in making necessary adjustments, bringing your life back into ease and harmony. Trust your intuition during this period as you fine-tune your path toward enhanced well-being.
On November 22, the Sun marches into Sagittarius and shines a spotlight on your home life. This is a time when your focus naturally gravitates toward family, home, and personal roots. It's an opportunity to strengthen your emotional connections with loved ones and make your living space more cozy and inviting. Adding an extra dose of fire to the Sagittarius season, Mars charges into your home sector on the 24th. This dynamic energy infusion ignites your passion and motivation for your living environment. You'll be driven to tackle home improvement projects, host gatherings, and infuse your space with your unique flair. However, you are encouraged to avoid arguments. Instead, listen actively, be patient, and seek common ground when differences arise.
The month ends with a dynamic Full Moon in Gemini, on the 27th. This lunar spectacle lights up your career sector, igniting ambition and clarity. It's a pivotal moment to shine in your professional life, where the spotlight is firmly on your achievements and aspirations. In addition, focus more on aligning your goals and aspirations with your communication style. This lunar energy encourages you to articulate your dreams and ambitions more effectively. Expect significant conversations surrounding career, spirituality, beliefs, legacy, fame, and more. Pay attention to the insights that propel you toward success and recognition, as you navigate the professional realm with finesse.
Overall, this month emphasizes the importance of effective communication and nurturing relationships. Your ability to express yourself clearly and connect with others will play a significant role in your personal and professional growth.
Self-care tip: Prioritize self-care by setting aside time each day for mindfulness and gratitude. Begin or end your day with a few moments of reflection. Focus on the things you're grateful for in your life, no matter how small or significant.
November's Affirmation: "I harness my innate wisdom to overcome obstacles and manifest my goals."
Make sure to check back every month to get your personalized astrological insight from our experts.
Want more information about your own personal astrology? Discover more about your zodiac sign, monthly transits, and your birth chart through our free resources.
Get Your Free Horoscopes Here
There is a definite feeling of being trapped when the 8 of Swords appears in your day or in your reading. This could be an issue of physical entrapment, such as with matters related to the law or justice, as Swords often deal with legal matters. But Swords also deal with thoughts and words, so…
Let These Tarot Readings Help Guide You Through Your Day
Daily Gemstone & Crystal Reading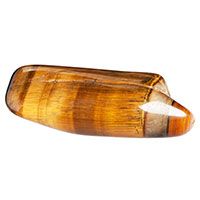 If we are looking to motivate ourselves to make a change or a commitment or are feeling depressed and self-critical, working with or keeping Golden Tiger's Eye near can provide protection and help us to find some sense of balance. Its warmth and brightness, both visually and vibrationally, can help…