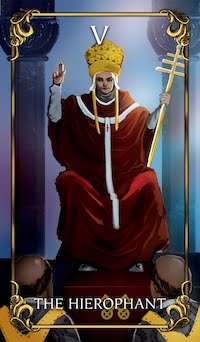 When The Hierophant Tarot card appears, tradition and the seeking of wise counsel are needed. The Hierophant may embody a Taurus in your life or a Fixed sign about to enter your life. Routine, structure, and a good work ethic are things that Taurus loves, and this is why The Hierophant represents Taurus. Learning and reverting to traditional roots might be the message when you see the Hierophant. You may consult with a third party in your situation if you are stuck or need advice. You mustn't make any decisions on your own today. Education, research, and an old-school way of doing things are the way to go in your day and situation. The Hierophant Tarot card also represents new beginnings, or elevated status in your situation is very likely. However, this will occur in your life more quickly if you seek counsel and assistance from an older source or within a traditional setting. It often signifies returning to school or joining a church or spiritual group. Sometimes the third source sought with The Hierophant is your Higher Power or the Divine within. It indicates you are educating yourself at a higher level, and a new beginning starts.
The Hierophant is also considered the Pope of the Tarot. The Hierophant also symbolizes the zodiac sign Taurus. Taurus is an Earth sign and about as traditional and structured as it gets. And Taurus is always keen on learning, which is a key meaning in your situation when you see The Hierophant. Here we see a man in robes, flanked by the pillars of knowledge and justice and surrounded by faith-based symbols. This is one of the pillar cards in the Tarot, the others being The High Priestess, Judgement, and Justice, and when it appears, know that information is key to your situation. Pillars in the Tarot represent knowledge or information. A pillar card means information is key to your situation.
The Hierophant is the brother card to The High Priestess, and as she is a female energy card, this is a male energy card. The Hierophant is different from the High Priestess; however, where she represents secrets and mystery, he represents tradition and old school values. The Hierophant always chooses the right path and is one that chooses integrity and doing things a traditional way.
Often, The Hierophant represents beginnings, which may be the start of a new job, a new relationship, or taking a job or connection to the next level. When an elevated status is the interpretation of this card, it is often traditional. If you are thinking about taking a relationship to the next level, this card will symbolize a traditional way, such as through an engagement or marriage.