Right now we are in the midst of an intense astrological time, moving through eclipse season as well as some powerful, disruptive transits. And while eclipse periods come around twice a year, 2020 continues to be remarkable in that this current season has three eclipses instead of the usual two.
We recently worked with a Lunar eclipse in Sagittarius on June 5th, will shift into Cancer season with a Solar eclipse in Cancer on June 20th, and will wrap up the season with another Lunar eclipse in Capricorn on July 5th. Each of these eclipses has its own unique astrological impact, but in general, eclipses make space for sudden and permanent shifts.
Much is being revealed: problems, challenges, obstacles, dreams, goals, ambitions, wishes for the future. Eclipses shake things up, push us to be authentic and attentive, clear away distractions and force us to acknowledge truth. And as we have already been moving through a collective time of deep and profound transformation, with pandemics and protests and calls for revolution, eclipse season may feel like more upheaval than any of us are ready for.
But rather than shying away from this intense energy, looking at eclipse season through the lens of Tarot can help us to dig deeper, to intentionally seek the potential and magic within these shifts, and to learn how to turn difficult change into empowering progress.
Eclipse Season & Tarot
Eclipses occur during New and Full Moons, and amplify the energy and intention of the phases and signs that they fall within.
The recent Lunar eclipse turned the Full Moon in independent Sagittarius into a brilliant time of truth and exploration, urging us to be flexible, to leave behind anything that's been holding us back. The Solar eclipse in sensitive Cancer will transform the New Moon into an even richer time of intuitive understanding, building connections, and exploring personal freedom, letting us seek a vision for our future that inspires and protects us.
The Lunar eclipse in structured Capricorn, our final eclipse of the season, will boost that full moon energy into a powerful period of boundaries and strength, reminding us of all that we are capable of, and urging us to focus on what really matters. Here's an easy spread for you to follow.
A Spread For Working Through the 2020 Summer Eclipses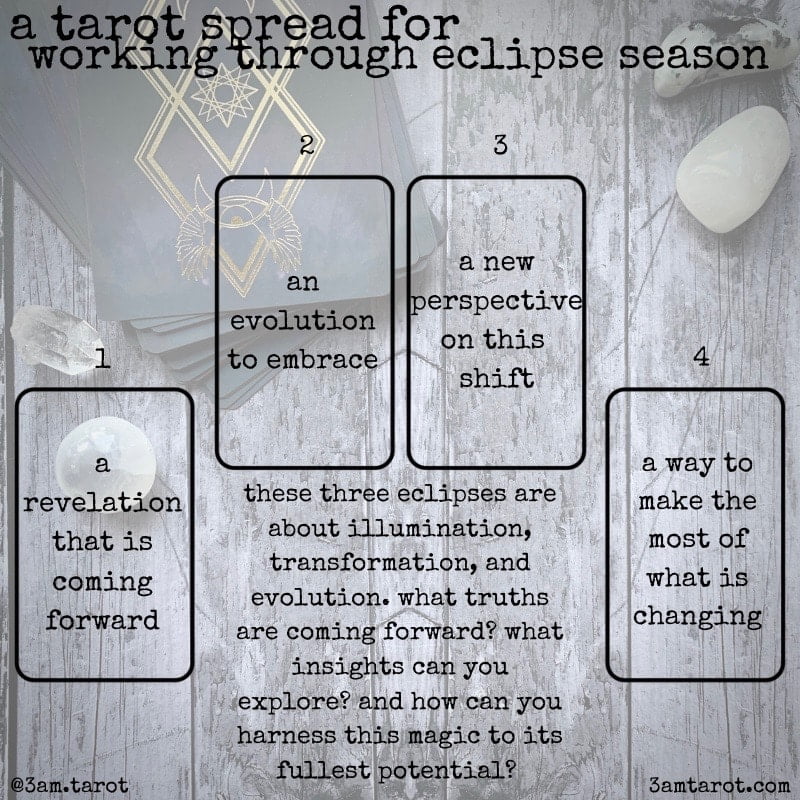 These three eclipses are about illumination, transformation, and evolution. What truths are coming forward for you? What insights can you explore? And how can you harness this magic to its fullest potential?
Card 1: A revelation that is coming forward
Card 2: An evolution to embrace
Card 3: A new perspective on this shift
Card 4: A way to make the most of what is changing
Decoding Eclipse Season Further Using the Tarot
Eclipse Season & The Tower
In Tarot terms, think of eclipses as manifestations of the Tower archetype in the Major arcana: sudden upheaval and permanent transformation, shattering the things that cannot be repaired and urging us to start again from a place of new clarity and awareness. This energy may scare us, may rattle us, may even have us wanting to run and hide. But just like with the Tower, during eclipse season, remember that the things that need to survive, will — and the things that break are meant to be broken.
Eclipses often push us to our limits, but these shifts are absolutely necessary, and clear the way for growth, change, and positive evolution. We will be moving through multiple Tower moments in the next month, watching things get pulled apart again and again, creating opportunities for future growth. Just like a forest fire clears away the dead wood and closely packed trees, the old vegetation and plant matter and underbrush, the Tower strips away everything that's been tripping us up and gives us a clean slate, a fresh start, a new beginning.
We aren't losing everything, even though sometimes it feels that way — we're just removing blockages, opening up new pathways.
And after the smoke clears and the intensity fades, what we find in the ashes is space, freedom, a chance to put the lessons we've learned into immediate practice and establish a more stable foundation.
Eclipse Season & The Fool
Just as eclipses are connected with the archetype of the Tower, we can also see the energy of other Tarot archetypes within the different phases of the Moon.
New Moons are associated with the protagonist of the Major arcana, the Fool, an archetype of new beginnings, exploration, and endless potential. When we look at the Fool and the Tower archetypes together, the Tarot's guide to Solar eclipses, we see a leap of faith that results in powerful change, allowing our intuition to guide us through a period of dramatic shifts and brilliant possibility.
If we can embrace it, there's a real sense of freedom in this combination, urging us to look deep within ourselves and follow the path that feels right. This pair of cards can feel chaotic, even impossible, but there's a kind of joy in not knowing what may happen, a sense of power and magic in trusting our instincts to bring us to the places we need to go.
Read next: June 2020 Tarotscopes
Eclipse Season & The Sun
With the energy of the Full Moon, we turn to the Sun, the archetype associated with celebration, childlike joy, and embracing a sense of victory and personal magic. Paired with the Tower and demonstrating the energy of Lunar eclipses, we see clarity and truth, a desire for understanding, success and empowerment after hard work.
The things we want, the dreams we chase, the ambitions we strive for — they don't just drop into our laps, unnamed and unearned. We have to be intentional in our objectives, name and identify our goals, clear the way for the future we want to build for ourselves. And sometimes, that means leaving behind the things that don't fit into our dreams anymore, instead moving in another direction, towards ideas and ambitions that resonate more deeply with who we are.
How to Move Forward
We tend to focus on loss and fear with the Tower, worrying about what we are giving up. But sometimes something magical comes bursting forth in these moments of transition, ruining all of our best-laid plans and instead urging us to run with hands outstretched, chasing this new dream or opportunity or idea.
If you spend all of eclipse season cowering in terror, afraid to make any choices for fear that they'll be the wrong ones, you may very well miss out on a major shift that could open up all kinds of new possibilities for you, showing you a future that you hadn't dared to dream of yet.
Instead of hiding from the energy of eclipses, remember the optimism of the Fool, the success and magic of the Sun, and don't lose sight of the power that is present in both of these archetypes. Eclipse season has the potential to free us from any uncomfortable bonds, to let us shake off the ways that we've imprisoned ourselves and create new patterns, new habits, new ambitions.
What have you been clinging to that is simply weighing you down? What new dreams or visions of the future have you been afraid to chase after?
As you work with the complex but powerful energy present in these two upcoming eclipses, and as you reflect on any shifts that began with the recent Lunar eclipse, remember to be gentle with yourself, to listen, to be open to new ideas and perspectives. There is deep wisdom in these transformations, and with the help of the Tarot, you may find yourself beginning a personal cycle of magic, strength, and evolution.
Lean into this growth, and enjoy the fact that right now, anything is possible.
Related article: Which Minor Arcana Card Are You, Based on Your Zodiac Sign?