Tarot can be a wonderful tool for so many situations, challenges, questions, and reflections. Offering guidance, awareness, fresh insights, and powerful truths, the cards have a way of cutting through the crap and helping us see things a bit more clearly, from different angles and new perspectives.
While it's sometimes helpful to have a specific Tarot spread for a specific issue, and while detailed layouts can allow us to dig into a question or challenge in an unexpected way, most of the time, you probably won't be able to find a spread that is perfectly tailored to your exact question.
Whether you're reading about a relationship, opportunity, decision, obstacle, possibility, or boundary, most situations are more complicated than a spread is likely to reference. Fortunately, Tarot doesn't require elaborate spreads in order to still give us the kind of clarity or direction that we're so often looking for. And in these instances, a more general spread can often function for us in a way that is incredibly useful.
Don't have a Tarot deck yet? That's okay! Get your free daily one-card reading or free past/present/future three-card reading online today.
The Benefits of a General Tarot Spread
General spreads are practical and powerful, giving you Universal guidance that you can apply to whatever your question or concern is. You can certainly adjust the wording in this spread to be more specific or personal if you like, but I find that general spreads don't usually require this.
Simply focus on your situation, shuffle and pull cards as you usually do, and see what your deck has to offer you.
If you've been reading Tarot for yourself for any length of time, you've likely already used general spreads before, particularly highly-recommended three-card spreads.
Beloved layouts like Past / Present / Future or Body / Mind / Spirit can be great for questions, reflections, or problem-solving, while spreads like Situation / Obstacle / Advice or Stop / Start / Continue can offer practical advice and insightful suggestions for what to do next. But if you'd like something a bit more detailed or extensive, this spread can help.
You might like: What is a Past / Present / Future Tarot Spread?
A Tarot Spread for General Clarity & Guidance
This spread is great for making decisions, but it can also help to invite new perspectives and viewpoints, pushing us to consider the risks available to us, to honor any fears or hesitations that have been bubbling up.
Boundaries and limits that we create for ourselves are often there to protect us—and while sometimes we can grow by pushing against them or changing them, other times they serve us well just as they are. If you've been reluctant to move, if you know something you've been trying not to examine, this spread can help shine some light into those darker corners.
And if you're just looking for the Tarot to give you some much-needed wisdom or clarity, this spread makes space for the cards to speak freely on whatever topic they choose.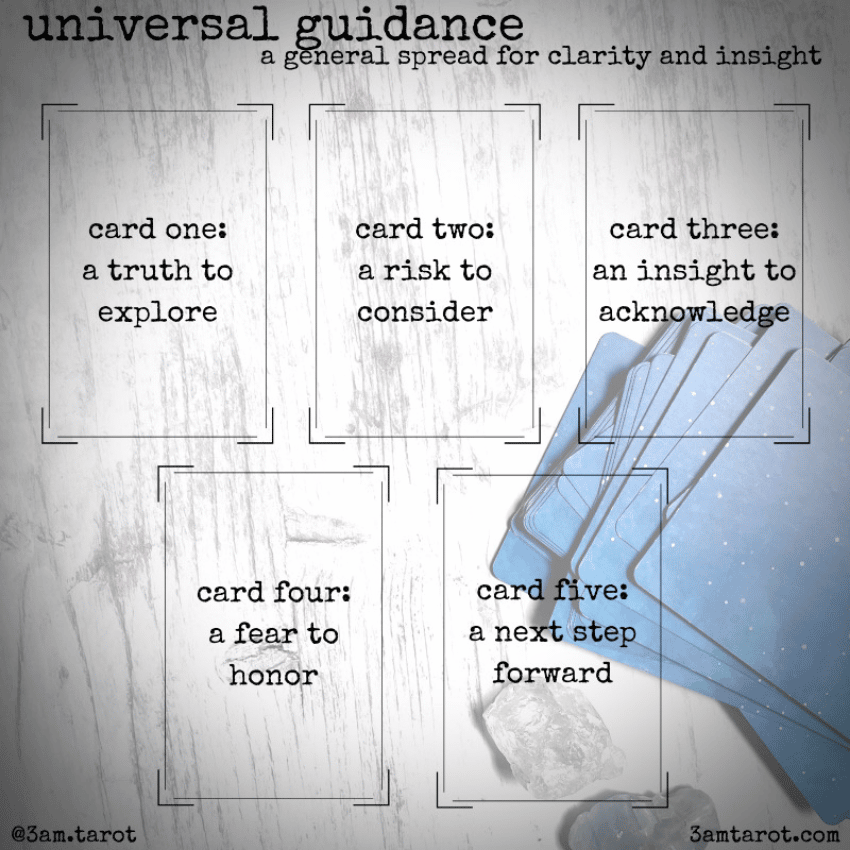 To help you understand how you can use this spread, I've done a simple sample reading.
Note: this is very general, and while you may find some wisdom or insights that feel personal for you, this spread is in no way meant to be a community reading and was not pulled with any particular question, situation, or person in mind.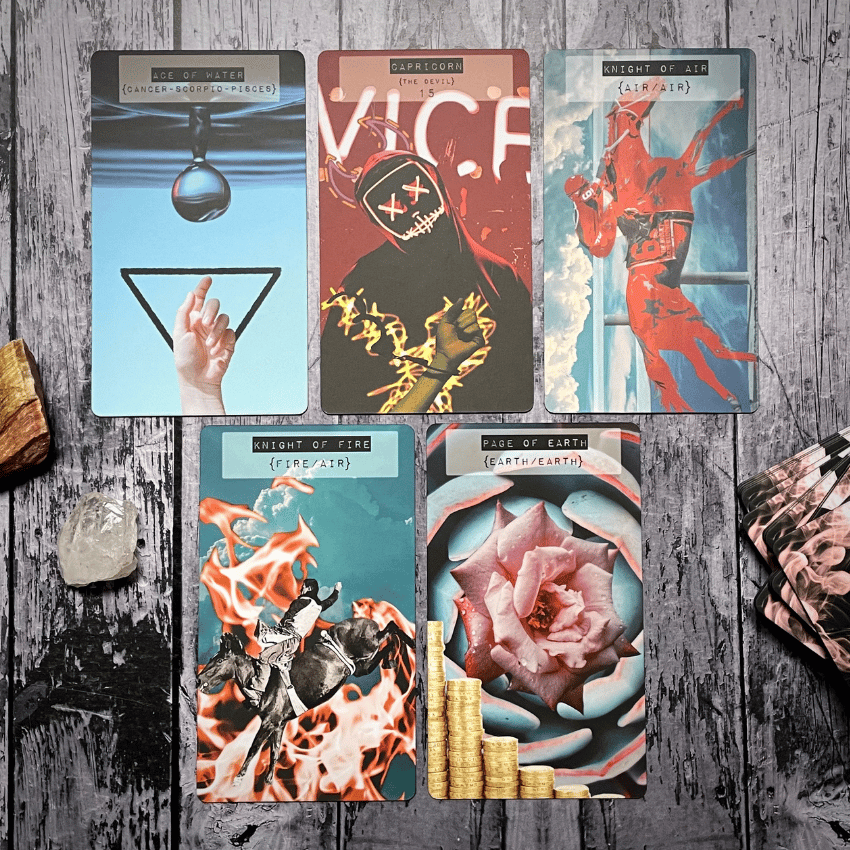 Card One: A Truth to Explore
Ace of Water / Ace of Cups
A card of overflowing emotion, a desire for connection, and a new intuitive journey, the more traditionally known Ace of Cups often comes forward when we are opening our hearts to something magical, insightful, and community-oriented. There's a deep joy here, a sense of trust and faith in the self.
In this position of truth to explore, the Ace of Cups indicates that we can put a lot of stock into our own feelings.
Things to think about:
What do we desire?
How are we moving in a direction that honors what we long for, what we crave?
Our deepest wishes and most powerful ambitions often come from the heart, so with this first card, we are invited to let our emotions take up space, to trust in our intuition to guide us forward.
Consider—how can we explore our own depths more fully? What truth have we been hiding from ourselves?
Card Two: A Risk To Consider
The Devil
Usually associated with destructive behaviors, negative patterns, or a big spiritual lesson, the Devil is an archetype of obstacles and challenges, things that distract us from our bigger goals.
But in this position of risk, the cards seem to be inviting us to pay attention to what is driving our choices, urging us to be honest with ourselves about what we really want and what we're actually chasing. Have we been taking chances with our ambitions? Have we been afraid to lose something and make decisions based on that fear?
Risk is not always a bad thing, and sometimes we have to intentionally release control of a challenging situation rather than trying to manipulate outcomes.
Consider—where do we get our power? How can surrender actually help us clarify what we want to pursue?
Card Three: An Insight To Acknowledge
Knight of Air / Knight of Swords
The first of three court cards in this reading, the Knight of Air, or traditionally known as the Knight of Swords, is associated with intellectual adventure, determination, and intense focus.
Knights always invite us to consider how we are balancing a particular element, and this explorer of air often sees the world in black and white, believing that their perspective or solution to a problem is the best possible choice. But it's easy to put blinders on when we're so eager to reach a particular milestone, easy to get caught up in one path forward, and lose sight of other options.
And in this position, the Knight of Swords invites us to be honest with ourselves about what we're doing and about who or what we may be ignoring.
Consider—how can we broaden our viewpoint, listen to other voices, make space for other potential truths?
Don't miss: A Tarot Card Spread For Quick and Easy Insight
Card Four: A Fear To Honor
Knight of Fire / Knight of Wands
Often seen as fearless, ambitious, and wildly creative, the Knight of Wands is charismatic, bold, and willing to take risks to accomplish big dreams. But like the Knight of Air, this is a figure that urges us to remember balance, to not get so caught up in our singular viewpoint or experience that we block everything else out.
With the Knight of Fire, in particular, we see someone that may be great at starting projects but doesn't always know how to see them through to the finish line.
In this position of fear, the cards ask us to honor our concerns that we won't be able to complete this project and challenge us to make a real plan for the future rather than making things up as we go along.
Consider—how can we set ourselves up for success? What details or ideas do we need to clarify?
Card Five: A Next Step Forward
Page of Earth / Page of Pentacles
A child of curiosity and practicality, the Page of Pentacles is eager to start a new venture but intelligent enough to know that they need to assess and gather resources first. A perfect solution to the challenges raised in the first four cards, this student of Earth considers many options, doing research and assembling information before making any commitments.
Rather than rushing into something blind, getting caught up in desire, or charging forward without a clear idea of where we're going, this card encourages us to be patient and intentional, to trust in the process, and to prioritize long-term vision over short-term gratification.
Consider—how can we begin planting seeds for our future? What do we need in order to be successful?
Shuffle Your Cards for Clearer Insight
So many of the cards in this reading touch on themes of control, surrender, and power, indicating that there is an opportunity present to clarify desires, evaluate where we are on our journey, and prioritize the dreams that matter most.
And with three court cards in this reading, it's possible that there are people in our lives that are eager to help us, as well as aspects of ourselves that we should be exploring more fully. How can hearing different perspectives help us be sure about what we believe? Where are we being invited to grow?
This spread can offer a sense of empowerment, giving you clear insights into where you are and guidance about where you want to go. What are your favorite general spreads?
This article features cards from The 8th House Tarot.
Read next: How to Expertly Shuffle Your Tarot Cards