Tarot is a brilliant tool for a number of distinct and personal purposes, but many of the most popular questions revolve around romantic partnerships, love, commitment, and compatibility. The heart can be a mysterious thing. When we are craving clarity, understanding, or new perspectives, the cards can help us cut through our own biases and gain a better, more genuine understanding of these connections.
When it comes to partnerships and love connections, Tarot is so valuable for starting conversations or for giving us context and archetypes to clarify our feelings.
We may not always know that we're at the beginning of a new journey, may not be consciously taking steps to move away from an old pattern into a new adventure — but if we can tell someone we trust that we have been pulling the Fool a lot lately and that we're excited for the feeling of openness and anticipation that's been building within us, that can help to clarify what we may want, need, or be dreaming about.
Weaving the Tarot's wisdom into our daily conversations gives us a new language to communicate through, a new set of tools to use in sharing our hearts.
Pulling Tarot cards with a current or potential partner can be a great way to get to know each other, both by facilitating deeper conversation and by enjoying the closeness that comes with this kind of ritual.
If you're still in the process of defining your relationship, or if you're looking to establish a more intimate connection, reading Tarot together can be a beautiful way to explore your similarities and differences and to celebrate the ways that you may each approach the cards.
And if you've been with this person for a long time, doing a reading together can encourage new layers of intimacy, bringing back fond memories or stimulating new ideas.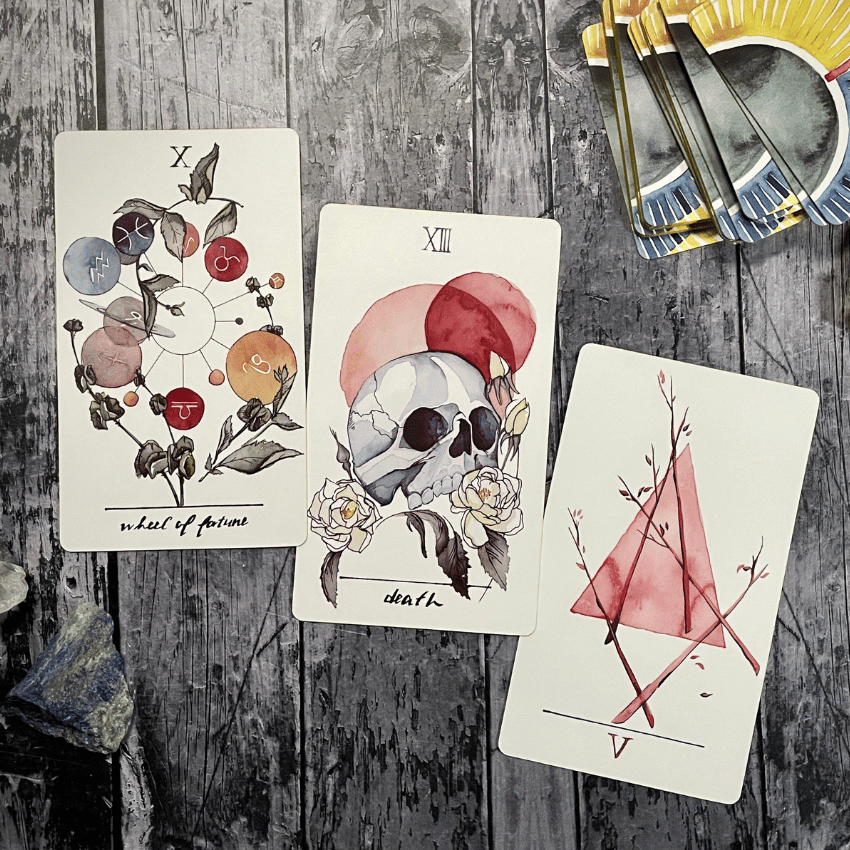 The following Tarot spread is a simple one and is intended for you to use with your partner, rather than on your own or on someone else's behalf.
You can also use this with a friend, family member, or someone else that you love and want to deepen your connection with. It can highlight the needs and desires that you both carry, which can help you find common ground and new ways to relate to one another or support each other.
And if you're looking for a new activity, topic, hobby, or goal to explore together, the final card can provide a jumping-off point for something you may both be eager to pursue.
Make sure to read: Best Days For Romantic Connection & Falling in Love in 2022
How to Use This Tarot Spread
Before digging into this spread or getting into the habit of pulling out your cards every time you have a question about a crush, relationship, breakup, or challenge, it's important that you spend some time thinking about your beliefs around Tarot and what you think that these cards have to offer you.
I personally don't do readings for people without their consent, which includes partners, friends, and love interests — to me, it feels invasive, a breach of trust that I'm not comfortable with (in either a personal or professional capacity).
It's so easy to misinterpret the cards when reading for someone who isn't involved in the reading, and besides, I certainly wouldn't want someone to gain insights on my emotions or desires without my consent or approval! Communication is key in relationships, and if you're turning to your cards as a way to avoid a real conversation, I would gently suggest that you put your cards away and consider another course of action.
The cards work better as a mirror than as a crystal ball, and in my opinion, are most useful when we're using them for personal reflection rather than as a way to gain insights into someone else's mind, heart, or spirit.
Below, you can check out a sample reading that I did using this spread, which can give you an idea of how to use this layout with your partner.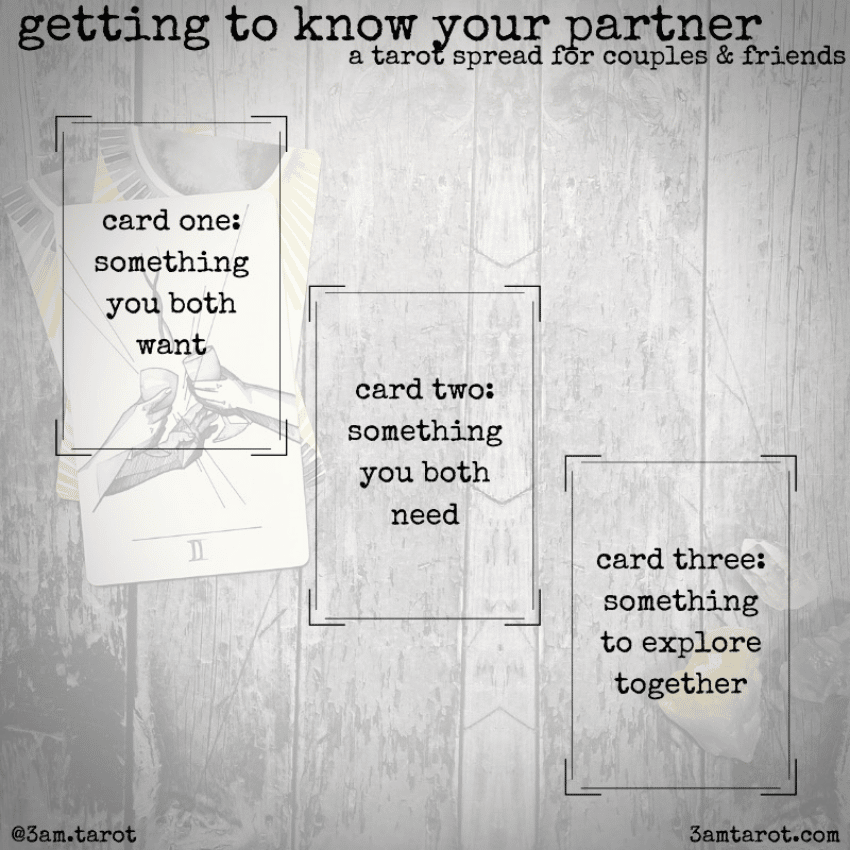 A Relationship Tarot Spread
Card One: Something You Both Want
Wheel of Fortune
An archetype of change, luck, and cycles, the Wheel of Fortune is a card that explores the forces we cannot control, and the ways that our own sense of power and agency can develop friction with larger Universal patterns.
This archetype often encourages us to trust in the Universe, to remember that there are bigger things at play and that even if we aren't sure how we will get to our destination, change is around the corner.
In this first spread position, both people in this relationship may be eager for things to change in a significant and beautiful way and may even want to surrender to something bigger rather than always feeling like luck isn't on their side. Together, they can discuss this desire and think about how they can support each other with a significant shift on the horizon.
What would luck turning around look like?
Card Two: Something You Both Need
Death
Another major arcana archetype, Death, is tied to endings, inevitability, and the beginning of a new cycle.
Echoing some of the themes of the Wheel of Fortune, Death indicates that a shift is needed and that both parties are eager for a real birth, for an opportunity to leave something stagnant behind and begin a new journey of growth, discovery, and joy. However, before the next thing can begin, something existing has to end: an expectation, a belief, an ambition, a dream, or even a relationship.
And for this couple to find the new beginning that they both seem to crave, they will first each (or as a pair) have to let something else go.
It's important to note that just because Death came forward in this reading, it's not an automatic indication that these two should break up! But this archetype does speak to a need to allow the "selves" to grow and change, to let go of something that is no longer growing or thriving and give themselves permission to grieve and regroup before beginning the next cycle.
Consider: How might releasing something that has felt permanent make space for something beautiful, empowering, authentic?
You might also enjoy: How to Embrace Change Using Tarot
Card Three: Something to Explore Together
5 of Wands
A card that lands right in the middle of the suit of fire, the 5 of Wands indicates frustration, friction, restlessness, a lack of direction, or a confusing uncertainty about what to pursue.
When this card emerges, it's often acknowledging a sensation of distraction or internal conflict, urging us to consider how our desires, needs, or passions may have shifted.
In this position of exploration, this card draws attention to a need to clarify ambitions or a sense of purpose, likely both as individuals and for the couple together. What does it mean to understand what we really want? And in looking at the first two cards in this reading, what kind of medicine might be working with the 5 of Wands offer?
What is the Tarot Telling Me in a Love Reading?
All three of these cards acknowledge a feeling of stagnation, frustration, or a lack of movement — the Wheel of Fortune and Death both speak of change. At the same time, the 5 of Wands reflects a desire to overcome a sensation of powerlessness.
These are two people longing to take control of their circumstances but aren't certain of how to do that.
But, if they each feel this way on their own, by combining forces and offering new insights to one another, they might find the power, agency, focus, and resources needed in order to make the progress that they both crave. And in being honest about where they might both need to let go, they can likely support each other in embracing the shifts and transformations that are on the horizon.
When using this spread with your partner, don't be shy about asking each other how you interpret each card, what the images or symbols on your deck mean to each of you, and how you see these cards telling a story.
Where do you differ, and what truths may lie in those differences? How do the cards speak to each of you as individuals, as well as to where you are as a couple?
Also by this author: A Tarot Spread for Navigating the Lovers' Year