Cancer Sex Horoscope: Tomorrow

Dec 07, 2022 - Where in the world are you going to be able to find some stability and security? With the world in such a wild state it has been more than a little difficult for you to find your footing, but don't beat yourself up over that because you've been doing your best as per usual. Today, however, it would appear as though the universe is going to remind you that there is someone watching out for you, even if you don't know it.
Some people call this a guardian angel, but even if you don't believe in such things it doesn't hurt to know that it's still there helping you out. With this new helpful hand guiding you along you get to have renewed faith in your world and yourself, so even if you'd been losing your usual steam just know your engine is going to be running full again soon.
More Horoscopes for Cancer
The 2 of Swords has much different energy than the Ace that came before it. This is a card that shows that inaction may be the place you are in regarding a specific situation. You may be at a crossroads on the decision, as noted by the crossed swords in front of the figure in…
Let These Tarot Readings Help Guide You Through Your Day
Daily Gemstone & Crystal Reading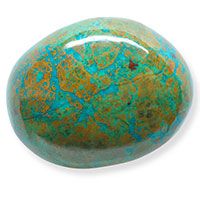 Soothing Chrysocolla has a calming effect that can assist in aura cleansing, give support to find acceptance, and help recovery from feelings of guilt, anger, and fear. If we have been hiding something, Chrysocolla encourages us to be more honest. This crystal also is helpful when healing the Throat chakra…