As we settle into this new year, there are plenty of ways to think about the weeks and months ahead.
Astrologers and numerologists have offered analysis and predictions for future transits. Still, when we look at 2022 through the lens of the Tarot, there are new opportunities for considering how we can work with the energies of this year and what kinds of themes may emerge on both a personal and collective level.
What is the Year of the Lovers?
2022 is the year of the Lovers, which we discover through numerology. By adding together the digits of this new year and mapping the number of 6 onto the Tarot's Major Arcana, we confirm that the next eleven months will embody the spirit and power of the sixth archetype in the Fool's journey.
The Lovers is a card of unions and partnership, of tapping into collective energies, of observing how outward connections can help us feel like our most authentic selves.
Who are you spending time with, investing in, being vulnerable around? How are you coming into yourself, choosing the genuine over the convenient, giving yourself the freedom to explore and expand?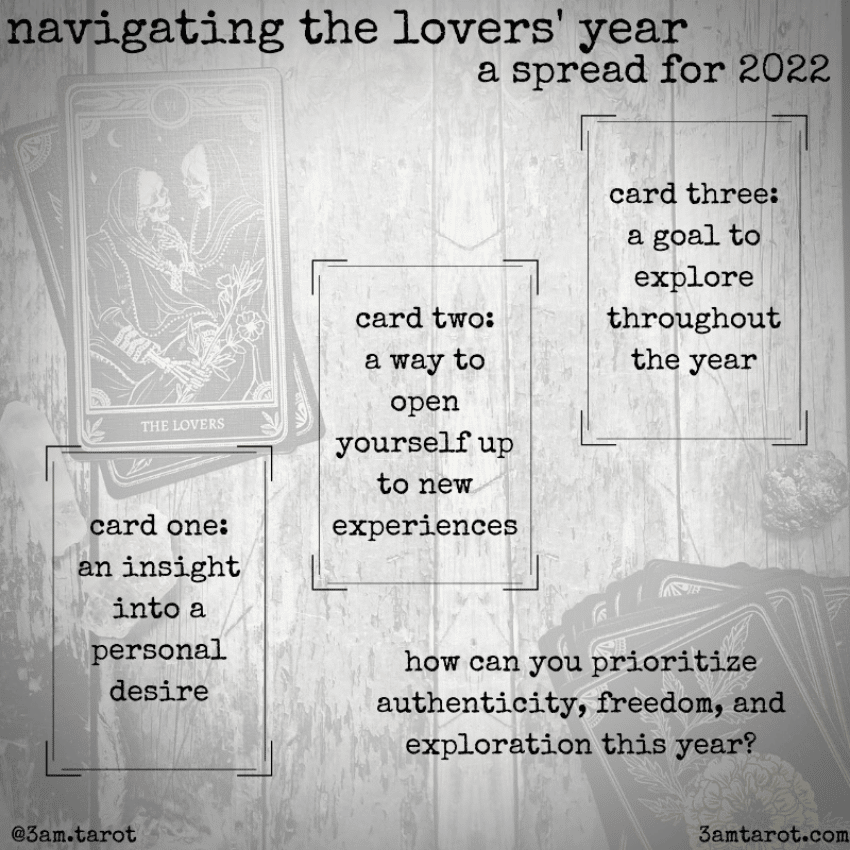 Try This Tarot Spread for 2022
My spread for this year is a simple one, focusing on desire, exploration, and personal goals. Think about any resolutions or objectives you may have set for 2022 and where those originated from.
Consider:
Are these goals coming from within you, born out of authenticity?
Or are you feeling pressured, insecure, uncertain about where you are, where you might be going?
How are you stepping into your true self this year, and what specifically are you working on that reflects and embodies that intention?
Before pulling the cards for your reading, I highly recommend locating the Lovers card in your deck and spending some time journaling about what this archetype means to you.
Write down your reflections on the following:
How does this card bridge the gap between the expansion and friction of the Hierophant and the triumphant, thoughtful movement of the Chariot?
What do the Lovers teach us about freedom, connection, vulnerability?
If you like, keep this archetype at the top of your reading space while you shuffle and pull cards, focusing on the insights, truths, and medicine that this card has to offer. Keep the Lovers in mind as you work through this spread.
The following reading is simply an example meant to help you understand how to use this spread in your own personal rituals. While this may offer you some valuable insights into your own life, these cards were not drawn with any particular person or situation in mind.
Card One: An Insight Into a Personal Desire
Wheel of Fortune
An archetype connected to fate, karma, and luck, the Wheel of Fortune reminds us that we are not always in charge, that there are certain things that will always be out of our control. And while a lack of power or a need to surrender to larger forces can be frightening or disorienting, there's also a certain comfort in being able to release a sense of authority, in relinquishing any illusions of influence.
This card may speak to a desire to slow down or rest, an eagerness to follow the patterns of the Universe and see what happens. The Lovers, in many ways, embraces a spirit of exploration, freedom, and movement without expectation, and this Wheel invites deeper examination of personal stresses.
Where might you be ready to follow the current rather than always steering the ship?
Card Two: A Way to Open Yourself Up to New Experiences
Temperance
Another Major Arcana archetype, Temperance, is a card of balance, moderation, and embracing mysteries, of allowing ourselves to enjoy things even if we don't understand them.
Coming after the permanent loss of Death, Temperance often invites us to slow down, pay attention to our intuition, and tap into the magic of the present instead of obsessing over the past or dreading the future. What is already at your fingertips that deserves further exploration?
Instead of analyzing or interrogating the shifts that you are moving through, how can you instead focus on the experience itself?
What are you learning about who you are, and how does that help you understand what you may crave and what you might no longer need?
Card Three: A Goal to Explore Throughout the Year
Knight of Swords
What are you pursuing?
Where is your viewpoint focused, and where might it be limited?
The Knight of Swords speaks to powerful concentration and intense movement, for better or worse. Knights often challenge us to consider how we're balancing an element in our lives. With the Suit of Air and Swords, we analyze our intellectual pursuits and consider where our perspective might be right on the money or, conversely, be a little too narrow.
Are we collaborating, leading, or dictating? Are we still curious, still trying to learn new things, or are we convinced that we're already an expert? There's nothing wrong with knowing who we are and what we want, but this is an invitation to be humble, joyful, open to ideas from other people.
How might our ego get in our way, and what does an inquisitive mind look like?
2022 is a Year for Powerful Growth
Overall, this reading asks us to leave our assumptions at the door and instead allow our experiences to shape our perceptions rather than the other way around.
Change has a way of introducing new information, insights, and ideas, so 2022 may bring unexpected but powerfully joyful growth, allowing us to get to know ourselves in brilliant and magical ways.
Reflect on these final considerations:
How can we prioritize authenticity rather than conformity?
Where are you being called to stand out, and how can living in each moment help you to do that with genuine pleasure and pride?
This post features cards from the Marigold Tarot. All photographs by Meg Jones Wall.