Dec 01, 2022 - Things might feel rather foggy right now with the intuitive Moon moving through Pisces and your sleepy 12th House of the subconscious. It can be unusually difficult to get a hold on your feelings during this transit as la Luna's powers of deduction aren't exactly at your beck and call.
Today, however, it seems the Universe might call you out to come and play, rousing you from your slumber, when Venus, currently roving through Sagittarius and your adventurous 9th House of foreign cultures and boundless horizons, reaches out and forms a tense square to the Moon in your dream realm.
This transit reminds you there is life out there beyond your own backyard, so instead of calling it an early night why not call up a special someone and see if they're down for a chat? I know you can't quite go out as usual, but a heart to heart will be in the cards. I'm sure the answer will be yes, so don't be shy.
More Horoscopes for Aries
It's always a wonderful sign when the Ace of Cups appears in a Tarot reading, especially if that reading is asking a simple Yes or No question. The answer, in this case, is most definitely a YES, and the Ace of Cups brings with it an offering of love. This is a loving card to…
Let These Tarot Readings Help Guide You Through Your Day
Daily Gemstone & Crystal Reading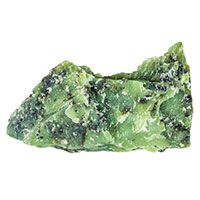 The Serpentine crystal (also called New Jade) can be soothing when we are struggling to overcome feelings of anger or irritability. This stone can help us reset ourselves, find abundance, and manifest healing energy. For energetic Gemini, a sign that needs its good humor and to get others on their…