One of the most popular ways to use the Tarot is for love and relationships.
After all, for many people, finding a person that they can be in partnership with is one of the most important goals they have. And whether you're single or in a relationship, the cards offer a number of different ways to look at your connections more closely, to consider how you can strengthen and nurture them, and to honor the path that you are on with other people.
And whether you're a Tarot beginner or a seasoned pro, we can all use a little extra insight when it comes to our love lives.
About Tarot & Relationships
Relationships are deeply complex things, and even when we have excellent communication with someone that we love and trust, there may still be questions under the surface:
Are we a good match?
What works about our partnership?
Which issues may come up in this relationship?
How can we strengthen our connection?
Will we be together for a long time?
What am I not aware of in this relationship?
The cards can answer these kinds of questions in a number of ways. And while relationships can be a tender thing to read about, the Tarot is not always as obvious in its messages as we might like when it comes to matters of the heart, but the cards can still offer us a lot of wisdom.
Think about:
What are you really asking?
Are you working to understand an existing problem within your relationship, or are you curious about issues that may arise?
Are you struggling with something in particular, or do you want to understand the bigger picture and look at your relationship broadly?
Think About Your Connection
When we dig into the relationships that we have with other people, a great place to start is often by reflecting on the connection itself: on what each person is bringing to the relationship, as well as what we each are hoping to get out of the connection.
Are you looking for someone to have adventures with, someone to stimulate you intellectually or creatively, someone to challenge you, someone you feel safe with?
Do you crave a long-term committed partnership, or are you looking for something more casual or temporary?
Do you believe in soul mates, and are you looking to expand your understanding of what intimate relationships can be?
This new spread for strengthening bonds holds a lot of space for considering the relationship and the individuals involved on their own and then moves into looking more closely at the connections, struggles, and possibilities that already exist.
You might like: Everything You Need to Know About Cups
A Warning About Using Tarot for Relationships
Before we dig into the spread, it's important to consider the how and why of this particular kind of reading. Tarot is a tool for self-discovery, a way to help us look inward, process emotions, listen to our intuition, make decisions that resonate with us, and understand more about the things that are motivating us to act.
For me, using the Tarot to attempt to dig into the emotions or desires of a person that is not my client, or has not consented to the Tarot reading, feels ethically murky, which is why for this spread and sample reading, we will be focusing mainly on you.
Relationships are absolutely worth exploring with the Tarot, but it's critical that we are attentive to what we are asking for from the cards and that we are thoughtful and respectful in the ways that we use tarot.
Read next: What Your Sign Says About The Way You Love
A Tarot Spread to Strengthen Bonds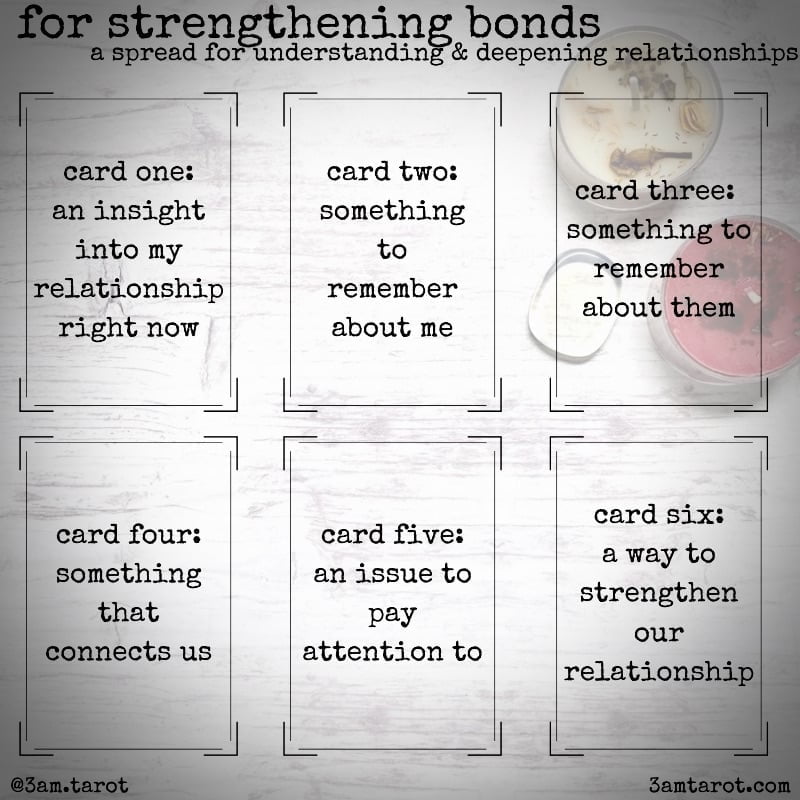 If you like, before you begin reading, you can pull out cards to use as signifiers (also known as significators) for yourself and anyone else that you are thinking about as part of this reading. Signifiers are not necessary for readings, but they can be a way to represent yourself or another person as a way of anchoring the spread and helping you focus on the energies that you are exploring.
Which card do you feel best captures your spirit, your ambitions, your energy?
Which cards remind you of the person or people that you are in a relationship with?
The court cards are uniquely suited to working as signifiers, but rather than getting hung up on traditional associations for appearance, gender, or role, instead stay focused on the energy. Are you someone that wears their heart on their sleeve, someone that prioritizes the practical or logical, someone that always has multiple creative projects going? Do you see yourself as a leader, a teacher, an explorer, a student?
Sample Tarot Reading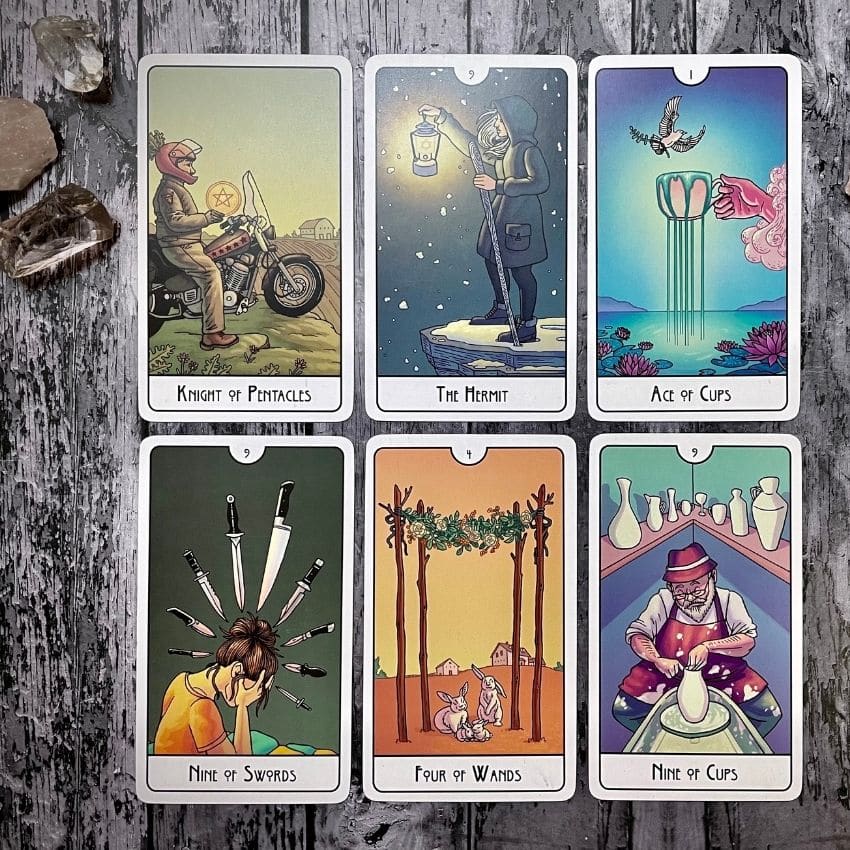 This spread, as well as the sample reading, can help you look at your relationship a bit more objectively and consider the factors that may be contributing to your present state.
Note: the sample reading is only meant to be an example and is not a reading meant for anyone in particular.
Card One: An Insight Into my Relationship Right Now
Knight of Pentacles
Grounded, patient, and responsible, the Knight of Pentacles is a devoted explorer, someone that is committed to the work of growth, exploration, and legacy.
While we tend to think of the Knight of Cups as our romantic hero, the Knight of Pentacles is steadfast and focused, hardworking and devoted, a person that is willing to do the work to build something lasting and important.
As a picture of a relationship, this card indicates that this is a connection that is being thoughtfully tended to, one that has importance to both parties, one that is on the road to success.
Knights always ask us to be conscious of how we are utilizing a particular element, so this figure of Earth also offers a gentle suggestion to be aware of how stubborn we may be, both within the relationship as well as in our perspective on the relationship itself.
Card Two: Something to Know About Me
The Hermit
An archetype of solitude and the only Major Arcana card in this reading, The Hermit speaks of stepping back from daily routines and taking intentional time for self-discovery, awareness, and reflection.
In describing the querent, this card indicates that this is a person who craves a lot of time for themselves, someone that is thoughtful and careful, someone that is always seeking new answers and wanting to learn more about themselves.
Paired with the slow, deliberate energy of the Knight of Pentacles, the Hermit highlights ideas of care and compassion, of thinking through actions, of not making decisions with haste.
The Hermit may seem like someone that is deliberately avoiding relationships, but instead, this card seems to reflect exactly what is happening – a person using tarot for awareness, to learn new truths about themselves and their life.
Card Three: Something to Know About Them*
Ace of Cups
A card of beautiful beginnings and overflowing possibility, the Ace of Cups marks a fresh start, a new connection, the potential for an emotional or spiritual journey. In this position, this card indicates that the other individual in the relationship is open and generous, able to give freely and without hesitation.
Cups are the suit most often associated with love, friendship, and community, and the ace speaks of both giving and receiving in equal measure. This is a person that is open to connection, that is ready for something magical, and that is not afraid of their own emotions.
*Note: You can absolutely use this spread to explore a relationship with multiple people, including friend groups, collaboration groups, or a polyamorous group. Just write down the people you want to pull for and the order that you plan to use before you draw cards in this spread, and then when you reach position three, pull a card for each individual.
Card Four: Something That Connects Us
9 of Swords
Often considered one of the most painful or difficult cards in the tarot, the 9 of Swords is a card of nightmares, terror, anxiety, and pain.
Swords are intellectual, mental, and so while this card can be a challenging one to see, it usually points us to our own perceptions and beliefs rather than giving us a true depiction of our reality.
in this position, the 9 of Swords indicates that these two people were brought together by difficulties that they have faced, similar upbringings, or traumatic events that have connected them. This could mean that these individuals create challenges for each other or cause each other pain, but given the rest of the cards in this reading and the general sense of support, love, and care here, I see this is as an indication that these two people support each other through difficulties, rather than causing each other harm.
Card Five: An Issue to Pay Attention to
4 of Wands
A joyful card of movement, victory, and warmth, the 4 of Wands is powerful and celebratory. Creative efforts are coming together, there are no obstacles in sight, and a sense of deep satisfaction is present.
This is not a card that easily lends itself to issues or struggles – instead, it's a moment of wonder and satisfaction in the midst of a long journey. For me, in this reading, this card reads as reassurance that all is well, foundations are solid, and that it's okay to be happy in this present moment.
Card Six: A Way to Strengthen Our Relationship
9 of Cups
Tied to happiness, gratitude, and deep joy in the self, the 9 of Cups is a card of wishes fulfilled, of having everything that we need to thrive. There is a real sense of contentment in the present, an awareness that we are supported loved, and valued in our relationships and communities, along with having a rich sense of self-love.
Sometimes this card speaks to a wish that is still hovering in the background, something quiet that would really push our happiness over the top. In this position, the Nine of Cups speaks of a relationship that is already strong and urges us to believe that things really are as good as they seem.
This reading reveals a relationship that is stable and grounded, one that allows for both self-discovery and community care for each individual involved. With two Minor Arcana nines (Swords and Cups) as well as the Hermit, which is the ninth figure that the Fool meets on their journey, the Hermit takes special meaning in this reading, indicating that thoughtful consideration and sensitivity to emotions is an important piece to remember.
The Knight of Pentacles speaks of care and devotion, while the Nine of Swords indicates that past challenges have established a solid and lasting connection. And with the Four of Wands and the Nine of Cups rounding out the reading, the cards describe a relationship that is joyful, stable, and provides a deep sense of satisfaction to both parties.
Bonds That Cannot Be Broken
Tarot can be a very useful tool for introspection and reflection, particularly when it comes to the relationships we form and maintain with other people.
When reflecting, consider:
How do you use Tarot to learn more about yourself, and how do those truths extend to the person that you are in relationships?
How can the cards help you identify what you want and need from relationships of all kinds?
What does the Tarot have to say about love and romance?
And when reading for relationships, how do you balance the messages that you want to see with the truths that the cards are actually telling you?
Looking for more insights from the Tarot when it comes to love? Try a free love Tarot reading here!
This post features cards from the This Might Hurt Tarot.