Capricorn Money Horoscope: Tomorrow

Jun 05, 2023 - You may feel a little overwhelmed today if your financial plans are not hitting the spot, Capricorn.
The key is to stay calm and regroup if you need to. Do you need to be a bit more flexible? Can you change your plans to fit with the current events?
Remember, you have more power than you realize. Sometimes it is just a question of remembering it and applying it to day to day life.
Take time today to unwind and ponder. The more you give yourself time to think, the better you will feel.
More Horoscopes for Capricorn
It's a new day and a new beginning when The Fool arrives in your Tarot reading. The Fool is the first card of the Tarot, and is noted by the number 0. This is the start of the Fool's adventure, and the rest of the cards are the experiences The Fool has while on his…
Let These Tarot Readings Help Guide You Through Your Day
Daily Gemstone & Crystal Reading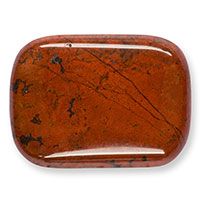 Red Jasper is a form of Quartz, and its energy radiates grounding, passion, and protection. Known as the "Stone of Endurance," it brings stamina, strength, and courage to the user. Warriors often sought it out in ancient times to encourage these traits on the battlefield.   Red Jasper is even thought…