Sep 26, 2023 - The week is still kicking off and you'd do well to capitalize on it, Gemini. I'm not saying you can't go out and have fun, you certainly can, but if you want to use today's energy to your advantage then I highly recommend putting your nose to the grindstone and seeing what magic you can manifest.
The intuitive Moon is soaring through Pisces and your ambitious 10th House of career goals and professional success, so while some people are already thinking about the weekend, you're chomping at the bit to make today count. If you don't want to go all in then how about laying the groundwork for projects and ideas you can implement when the Moon enters your sign?
You're so brilliant, so make use of that brain in a way only your sign can possibly manage.
Sep 26, 2023 - Do your romantic relationships provide your life with a sense of meaning? Do you feel spiritually fulfilled through them? The Moon is in Aquarius and in your 9th house and is inviting you to reflect on these questions. Relationships are so much stronger when…
Sep 26, 2023 - The Moon is in Aquarius today and in your 9th house. Do you feel spiritually fulfilled at what you do? Does it connect you to something bigger than you? Does it provide your life with meaning? These are all relevant questions to reflect on…
Sep 26, 2023 - This lunar energy is calling to your inner humanitarian and to your greatest vision. You have met your fair share of challenges but you are ready to push forward with positive thinking and drive. Opportunities for better finances are on the way but first…
Sep 26, 2023 - Gemini, you're feeling particularly creative and inspired today. Use this energy to express yourself and engage in activities that bring you joy. Citrine is a stone that inspires creativity and joy. Hold a piece of citrine in your left hand and envision yourself embracing…
Sep 26, 2023 - Today isn't really about pleasure for you, Gemini, so if you were hoping for otherwise, well, I'm sorry to have to disappoint. The intuitive Moon is roving through Pisces and your ambitious 10th House of professional goals and achievements, which isn't at all about…
More Horoscopes for Gemini
The 6 of Pentacles is another one of those dreaded "stage" cards in the Tarot. But it's not to be dreaded, really. The Tarot always tells us what we need to hear. A "stage" card in Tarot is when there is a line at the midpoint of the card that illustrates a grey area. This…
Let These Tarot Readings Help Guide You Through Your Day
Daily Gemstone & Crystal Reading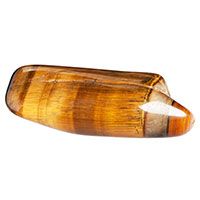 If we are looking to motivate ourselves to make a change or a commitment or are feeling depressed and self-critical, working with or keeping Golden Tiger's Eye near can provide protection and help us to find some sense of balance. Its warmth and brightness, both visually and vibrationally, can help…