Sagittarius Sex Horoscope: Yesterday

Nov 27, 2023 - Things have probably been a little less than thrilling lately, Sagittarius; yes, you have probably had a lot going on and plenty of things to tend to, but busy doesn't equal exciting and I certainly don't need to tell you that. With all the mixed messages, missed appointments, to-do's and checklists, life has probably gotten a little sterile. You may have even been feeling this chaffing you for sometime now–the lack of pleasure, the lack of payoff, one way or another, for all your hard work and perseverance.
Well, I'm very happy to tell you that it looks like things are about to change on that front and that the stars indeed have something, or someone, from the look of things, in mind for you and they are getting ready to send them your way. Just keep your head down a little longer and keep plowing away because I wouldn't be surprised if the next time you look up there's someone very special looking back at you.
More Horoscopes for Sagittarius
Just as he was in ancient days, The Emperor in the Tarot is the symbol of ultimate authority; but where his authority lies in your day or question remains to be seen. This could be anyone from a police officer to a real estate agent or lawyer. Home issues and father figures can also crop…
Let These Tarot Readings Help Guide You Through Your Day
Daily Gemstone & Crystal Reading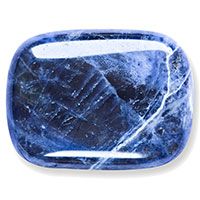 Sodalite's name was taken from the Ancient Greek meaning for "salt stone," referring to the white Calcite flecks peppered through it. Known for its properties of intuition, guidance, and focusing energy, Sodalite is a wonderful crystal to work with to help with self-esteem for guidance, and its calming vibrations can…