Sagittarius Sex Horoscope: Yesterday

Dec 04, 2022 - You could find yourself stuck between work and pleasure today, Sagittarius, and the constant draw between them will drive you crazy, I'm sure. I am so, so sorry about that.
Anyway, the Moon is moving through Aries and your 5th House of romance and passion, and while he's there he is going to be reaching out across the heavens and forming an extremely disruptive and tense square with power player Pluto in industrious Capricorn and your 2nd House of earned income and material possessions.
This transit is going to shake up your work life when you'd rather just play, so I'm sorry to tell you you're going to have to set some time aside for rolling up your sleeves and getting to work. If you're properly productive maybe you can find the time later on to remove your shirt altogether, but you'll have to get things done first and foremost.
More Horoscopes for Sagittarius
Let These Tarot Readings Help Guide You Through Your Day
Daily Gemstone & Crystal Reading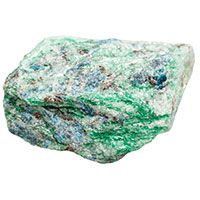 Fuchsite is often associated with healing, loving energy due to this green hue and its ties to the Heart chakra. This crystal allows us to find our inner light and release negative emotional energy, which allows those who use it to become more compassionate and forgiving in our relationships. Due…