Sagittarius Sex Horoscope: Yesterday

Jun 02, 2023 - The stars are coming together overhead in a sensual alignment, and while some signs might take this energy to the bank, you should focus on taking it to the bedroom. The reason for this is that the emotional Moon will be sending out a love letter across the sky to romantic Venus, casting a rosy glow over the day, and she'll be doing so in the most intimate sectors of your chart.
The Moon is sailing through your dreamy 12th House of the subconscious, turning you into an antenna for cosmic signals, while Venus is currently dancing through your erotic 8th House of sex and intensity. On a day like today a romantic opportunity could very well come right out of the blue, or you could even surprise yourself with the desires that well up within in you. Who knew you felt that way?
More Horoscopes for Sagittarius
The King of Swords is not the guy you want to be on the wrong side of, but if you have his loyalty or appreciation, he's a good guy to have on your team. Often considered the highest leader of the court cards, he mixes the Fire element with his King status and the Air…
Let These Tarot Readings Help Guide You Through Your Day
Daily Gemstone & Crystal Reading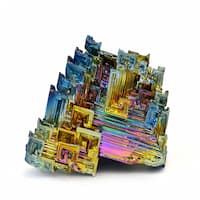 Bismuth is a beautiful multi-colored crystal that helps support transformation within the individual and brings a greater sense of confidence when working towards your hopes and dreams. It is especially helpful for teamwork and helps to relieve feelings of loneliness or being isolated. Bismuth is a Storm crystal and vibrates…