Sagittarius Sex Horoscope

Jun 03, 2023 - Life has probably been a bizarre mix of extremely busy and extremely hazy as of late, and I could hardly blame you if you've felt more than a little conflicted by all these alternating vibrations. One minute you know exactly where you are, the next you've woken up in some bizarre dreamscape that only matches half of what you thought you knew. Is this Oz? Wonderland? Who knows!
Today, however, it looks like you're going to click your heels together three times and find yourself exactly where you ought to be. Now, don't think that means you're about to return to some sepia-toned dustbowl; instead you're going off to somewhere even more magical, even more colorful, but it will also be a great deal clearer than the place you're leaving.
In this new place you get to put your desires first, so whether there's no place like home or you're dying to go somewhere over the rainbow, just know there's something wonderful waiting for you wherever you wind up.
More Horoscopes for Sagittarius
The King of Swords is not the guy you want to be on the wrong side of, but if you have his loyalty or appreciation, he's a good guy to have on your team. Often considered the highest leader of the court cards, he mixes the Fire element with his King status and the Air…
Let These Tarot Readings Help Guide You Through Your Day
Daily Gemstone & Crystal Reading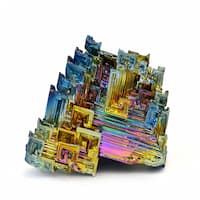 Bismuth is a beautiful multi-colored crystal that helps support transformation within the individual and brings a greater sense of confidence when working towards your hopes and dreams. It is especially helpful for teamwork and helps to relieve feelings of loneliness or being isolated. Bismuth is a Storm crystal and vibrates…