Sagittarius Sex Horoscope: Tomorrow

Sep 25, 2023 - This could wind up being one of the most fun and fabulous days you've experienced in some time, so if you've got work to tend to and responsibilities to answer for, well, do your best to see to them first thing and get your plate cleared of any projects because there is a much better feast waiting for you out in the world.
Throughout the day the Moon, currently touring through your buzzy 3rd House of local communities and communications, will form two incredibly potent angles to sexy Mars and expansive Jupiter, so I can safely say this day has five-stars when it comes to getting frisky.
If you have someone in mind you'd like to share this energy with that's wonderful, but singles will have just as much luck finding a new partner under these stars, so no matter your situation don't waste it!
More Horoscopes for Sagittarius
The presence of the Queen of Cups in your day suggests there is a lot of intuitive energy in the air. This Queen often signifies that an older woman, or person, likely of the Water Signs in astrology, will make a presence in your day. This court card symbolizes the zodiac sign of Scorpio, but…
Let These Tarot Readings Help Guide You Through Your Day
Daily Gemstone & Crystal Reading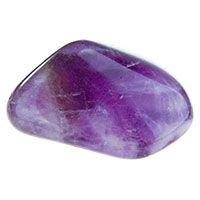 Amethyst is a member of the Quartz family, its color range starts with the palest lilac and goes to the deepest and darkest of purples. In its raw state, it forms in points, from tiny clusters in the druse, to huge natural termination. Containing qualities of purification and protection, Amethyst…