Taurus Sex Horoscope: Tomorrow

Jun 02, 2023 - Who knew that person felt that way about you! The planets are coming together in a romantic alignment that has your name written all over it, so don't ignore this exciting opportunity for pleasure. The intuitive Moon is moving through your 7th House of one-on-one relationships and contracts, orienting your attention towards that special someone in your life.
Throughout the day la Luna will send out a harmonious trine to goddess of love Venus in your 3rd House of communication and friendships. With these vibrations you might be pleasantly surprised when someone you only thought of casually presents themselves as an uber-qualified romantic partner. Under these stars someone can really impress you, so if you wrote someone off once before don't be scared of giving them a second chance.
More Horoscopes for Taurus
It's a new day! Literally, in some cases, when The Sun card arrives. But The Sun also represents a new day in your situation you are asking the Tarot about today. Major Arcana cards can be quite ambiguous when it comes to timing, and generally, the meaning of time when Major Arcana cards arrive is…
Let These Tarot Readings Help Guide You Through Your Day
Daily Gemstone & Crystal Reading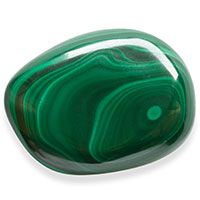 Malachite is most beloved for its healing properties and confidence-boosting reputation. Malachite offers protective and healing qualities, amplifying any change we wish to make in our lives.  This particular crystal is helpful for the intense signs of Scorpio and Capricorn who benefit from personal exploration.  Its primary chakra is our…