Taurus Sex Horoscope: Tomorrow

Dec 11, 2022 - The universe could feel like a revolving door of opportunity right now, so if you've been on the lookout for someone to form the other half of a dynamic duo today could present you with more than one option. Yes, you're probably thinking how on earth could such a thing be possible given the current state of the globe, but have faith in the Universe (and yourself) that all things are possible, even in times of strife.
The Moon is dancing through Cancer and your buzzy 3rd House of local community and friendships, so it looks like you've got a lot going on and a lot of people to see, even if it is only on Facetime. Throughout the day the Moon will form a lovely trine to Jupiter in Pisces and your 11th House of hopes and dreams, so if you wish upon a star for someone special they could finally make an appearance right now.
Enjoy this lovely gift from the universe and be sure you don't waste it.
More Horoscopes for Taurus
You are looking for or needing harmony and balance in a situation when the Temperance card appears. But this is not a negative connotation. The Temperance card appears in the Tarot after The Death card, and this is sending us the call for balance and peace after a stressful situation. In most cases, the balance…
Let These Tarot Readings Help Guide You Through Your Day
Daily Gemstone & Crystal Reading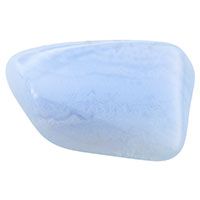 Blue Lace Agate assists with our ability to share and express. If you've been dealing with overwhelming feelings of anger, anxiety, or frustration and have been seeing increased conflict in multiple areas of your life, you might want to invest in this crystal. Its primary chakra is the Throat chakra,…