Aquarius Health Horoscope: Tomorrow

Dec 08, 2022 - While you may feel more like sharing your thoughts and ideas with colleagues, be careful about who you trust today, Aquarius. It's important to follow your intuition today. Try starting the day with meditation and chakra work to deepen your connection to your own wisdom.
Tree agate is a crystal that will help you nurture your ideas and follow your intuition today. Place a piece of tree agate near your body when working or making decisions to connect to your center of wisdom.
They say, "An apple a day keeps the doctor away." And while they may be stretching the truth, it's a good idea to add a slice apple to your diet today for fiber, vitamins, and a boost to the immune system, Aqua.
More Horoscopes for Aquarius
The Knight of Cups is always a welcome card in any reading, particularly in Tarot readings about love or romance. A wonderful invitation is on its way to you, or you may be the one receiving the invitation. This invitation may be anything from a new date if you are single, to a proposal if…
Let These Tarot Readings Help Guide You Through Your Day
Daily Gemstone & Crystal Reading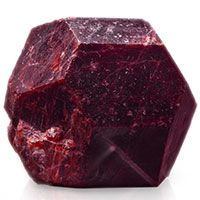 Garnet promotes love and attracts romance, making it an excellent stone to work with for anyone looking to increase the love in their life. This crystal is particularly helpful for those under the signs of Leo, Virgo, Capricorn, and Aquarius, all signs where loyalty is of the utmost importance. Garnet's…