Apr 02, 2023 - This is a terrific day to focus on work, provided your subconscious doesn't throw you for a loop in the process. The intuitive Moon is moving through your 6th House of health and wellness, and while she's here she's orienting your focus towards all things work.
What's lovely is that throughout the day a number of planets will form supportive angles to the Moon, amplifying this efficient energy, BUT there will also be one harsh beam from stern Saturn in your 12th House of the subconscious. Since this realm rules all the 'hidden' things in our lives, it wouldn't be at all surprising if something completely unexpected appears out of the blue and demands all your attention, diverting it well away from your normal endeavors.
On the upside this transit is a short one so even if part of the day feels like a waste the rest should still promise productivity.
Apr 02, 2023 - Are you willing to do the daily work necessary in order for your romantic partnerships to work out? This is a great question to meditate on today as the Moon is in Virgo and in your 6th house. Relationships just like any other aspect…
Apr 02, 2023 - Discipline is discipleship, this means that discipline isn't thinking "oh, I hate doing this but I have to do it anyway." It means knowing that you're doing what you're doing because it is paving the way for you to accomplish what you want to.…
Apr 02, 2023 - This Moon encourages you to pay close attention to your emotions as you may be feeling rather emotional today, Aries, especially in regard to financial matters. It helps to write down your feelings and layout a plan of action. If you feel stress getting…
Apr 02, 2023 - You may experience intense or passionate energy today, Aries. This energy might urge you to take risks, but it's much better to think about your plan before acting. Writing your thoughts and ideas down can help you sort through them and encourage balance within…
Apr 02, 2023 - Today isn't really about sensual romance for you, so if you were coming here hoping for me to tell you that was the case, well, I'm very sorry to disappoint. The intuitive Moon is moving through your 6th House of work and routine, so…
More Horoscopes for Aries
On the one hand, the Knight of Pentacles is in no rush, not in a hurry to get anywhere. But on the other, the road ahead of the Knight and the red laurels on his dress and horse indicate he is ambitious and has a bright future ahead. When the Knight of Pentacles appears, the…
Let These Tarot Readings Help Guide You Through Your Day
Daily Gemstone & Crystal Reading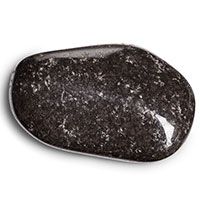 Known for its properties of encouragement, strength, and protection, Onyx connects very closely to our primary chakra, the Root chakra. This is because both Onyx and our Root chakra connect to our sense of safety, security, and our physical identity or sense of self.  The properties of this crystal are…