Oct 01, 2023 - This could be an extremely productive and lucrative day for you, and from the look of things I'd say you probably won't have to do too much more than just show up for yourself and in the process the planets should do the rest.
The intuitive Moon is moving through your 8th House of lump sums and other people's money, and while she's here she's turning your attention towards other financial matters due to the fact that throughout the day la Luna will form a powerful conjunction with lucky Jupiter in this same sector of your chart.
When these two heavenly bodies come together there is an extra dose of magic in the air, so if you want to use this to your financial benefit I'd say don't worry about having to try too hard. You've got all the power you need.
Oct 01, 2023 - Is it easy for you to experience intimacy with your romantic partner? What are the things that scare you the most in your partnership that may be preventing you from experiencing as much closeness and depth with your lover? Ask yourself these important questions…
Oct 01, 2023 - What is the current nature and condition of your joint financial partnerships and investments? The Moon is in Taurus today and in your 8th house, and it is asking you to reflect just on that. Do your investments give you back as much as…
Oct 01, 2023 - Now is the time for deeper contemplation. This lunar energy encourages you to be firm but fair with yourself. It can be very transformative. There is a need for balance and self-analysis. You have the power to make incredible transformations at this time. Let…
Oct 01, 2023 - As the Moon moves through Taurus, you may find yourself feeling more focused on your health and wellness, dear Libra. This is an excellent time to prioritize self-care and establish healthy habits that support your physical and emotional well-being. To enhance your self-love and…
Oct 01, 2023 - This could be a very, very interesting day, so keep your eyes peeled because life could feel so surreal and fantastical right now that you might have a hard time telling reality from fantasy. The intuitive Moon is moving through your intimate 8th House…
More Horoscopes for Libra
There is a definite feeling of being trapped when the 8 of Swords appears in your day or in your reading. This could be an issue of physical entrapment, such as with matters related to the law or justice, as Swords often deal with legal matters. But Swords also deal with thoughts and words, so…
Let These Tarot Readings Help Guide You Through Your Day
Daily Gemstone & Crystal Reading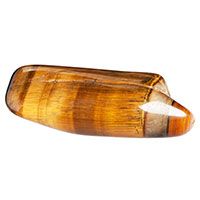 If we are looking to motivate ourselves to make a change or a commitment or are feeling depressed and self-critical, working with or keeping Golden Tiger's Eye near can provide protection and help us to find some sense of balance. Its warmth and brightness, both visually and vibrationally, can help…