Sagittarius Daily Horoscope

Dec 03, 2023 - You can go as far as your legs can carry you, but if you are in no mood to move anywhere physically, then your mind can certainly go places.
That's all well and good to escape from reality to seek out greener pastures, but it's important to remember that greener pastures aren't always what they seem, and by the time you've realized that, the pasture you left behind might have started to turn brown from want to watering and attention.
Make a point to water your own pasture, taking in all its beauty and abundance, and thinking about what else you could plant there to make it even more appealing down the line once things have begun to bear fruit.
Dec 03, 2023 - The Moon is in Leo and in your 9th house today, however it is also squaring Uranus in your 6th house. This is asking you to tend to the bigger/spiritual aspects of your intimate partnerships while also making sure that you are taking care…
Dec 03, 2023 - The Moon is in Leo today and in your 9th house. Do you feel spiritually fulfilled at what you do? Does it connect you to something bigger than you? Does it provide your life with meaning? These are all relevant questions to reflect on…
Dec 03, 2023 - Under this lunar energy, this is a truly positive time for conversations about finances. Take your time today to think about what you want to say. You may find yourself planning rather carefully in the coming future regarding your finances. This is a time…
Dec 03, 2023 - This transit can bring a focus on your social connections and community involvement. Consider joining a group or organization that aligns with your values, or volunteering for a cause you're passionate about. Drinking plenty of water can also help you stay grounded.
Dec 03, 2023 - Things could get hot and heavy with a partner today, Sagittarius, and perhaps a relationship can even transform from one thing to something much, much bigger. Venus is moving through Libra and your 11th House of hopes and dreams, and throughout the day she'll…
More Horoscopes for Sagittarius
When the 10 of Wands appears in a reading, the Tarot is sending the message that you are in the home stretch now. This card is much more optimistic than its symbolism appears. On the 10 of Wands, we see a lone figure carrying 10 wands on his own, plugging ahead on a long path…
Let These Tarot Readings Help Guide You Through Your Day
Daily Gemstone & Crystal Reading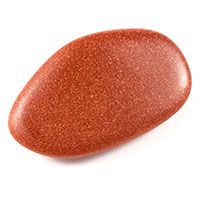 Red Goldstone is an uplifting crystal that can be used to find your positivity, become more confident, seek higher levels of calm, and can encourage us to be more ambitious and driven. The little flecks of gold throughout the crystal are symbolic of the "light" you may find when using…