Sagittarius Daily Horoscope: Yesterday

Jun 03, 2023 - There are times when it feels appropriate to take the spotlight, and then there are times when you may well want to play the wallflower; after all, you can have a shy moment here and there. Perhaps you find yourself fitting into one of those two options much more so than the other, but regardless of your normal program the Universe is about to bring you to front and center stage whether you like it or not, but it seems that you will indeed like it.
The reason for this is the beautiful Sagittarius Full Moon illuminating the skies right now, turning all the cosmic focus towards you and your dreams. It wouldn't be one bit surprising if you have felt like what you want to do, what you want out of life, has been put on the backburner while the world goes to hell in a handbasket, but guess what? It's your time, and you can be selfish with it if you want to be.
Make a wish because even if it isn't your birthday season, you still get to blow out the candles.
Jun 03, 2023 - The Moon is in Sag and in your 1st house of self today, this is emphasizing the importance of self-love within your romantic partnerships. Is it easy for you to remember that you are just as important and worthy of taking care of your…
Jun 03, 2023 - The Moon is in Sag and in your 1st house of self. This is asking you to get more in touch with your confidence and ability to take initiative to make what you want to happen. The way we hold and present ourselves creates…
Jun 03, 2023 - Your finances may experience a few up and down moments but things will stabilize again so go with the flow for now and don't let concerns get the better of you. You may find yourself having to fork out for a few unexpected bills…
Jun 03, 2023 - This is a great time for Sagittarius to focus on personal growth and exploration. Try a new hobby or spend time in nature. Clear Quartz is a helpful crystal for Sagittarius, aiding in clarity and manifestation. Incorporating whole foods like fruits and vegetables into…
Jun 03, 2023 - Life has probably been a bizarre mix of extremely busy and extremely hazy as of late, and I could hardly blame you if you've felt more than a little conflicted by all these alternating vibrations. One minute you know exactly where you are, the…
More Horoscopes for Sagittarius
It's a new day and a new beginning when The Fool arrives in your Tarot reading. The Fool is the first card of the Tarot, and is noted by the number 0. This is the start of the Fool's adventure, and the rest of the cards are the experiences The Fool has while on his…
Let These Tarot Readings Help Guide You Through Your Day
Daily Gemstone & Crystal Reading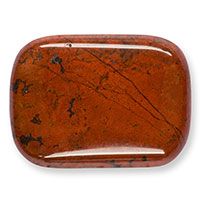 Red Jasper is a form of Quartz, and its energy radiates grounding, passion, and protection. Known as the "Stone of Endurance," it brings stamina, strength, and courage to the user. Warriors often sought it out in ancient times to encourage these traits on the battlefield.   Red Jasper is even thought…