Sagittarius Daily Horoscope: Tomorrow

Mar 26, 2023 - Partnering up could lead you to ideas and places you never dreamed of, Sagittarius. Yes, you're normally one to see exactly where the road can take you along with each and every possibility on the way, but today it would be best to form a dynamic duo because your vision will be twice as exciting.
The intuitive Moon is moving through Gemini and your 7th House of one-on-one relationships and legal contracts, encouraging you to pick a partner and enjoy it. This mood is amplified thanks to a harmonious beam between the Moon and the Sun in Aries and your 5th House of fun and passion, so it looks like there's every chance in the world today will turn out to be one for the books.
Let your mind wander and use a creative touch with everything you do right now, because chances are you could come up with something truly special with the help of someone else.
Mar 26, 2023 - Do you have an easy time compromising in your romantic partnerships? How much do you allow yourself to bring yourself in relationships and how much do you allow them to do the same? These are relevant questions to think about today the Moon is…
Mar 26, 2023 - Bring your attention to your business partnerships. What's the nature of your relationships with those whom you work with? Today the Moon is in Gemini and in your 7th house. Can you afford to compromise more in your interactions with others? A necessary ingredient…
Mar 26, 2023 - This is an excellent day for focus and for analyzing your sense of security, Sag. The more you focus on your finances today and recognize areas where you may feel insecure in this area, the more the universe will open up to new and…
Mar 26, 2023 - Your quick-wittedness and intellectual abilities will be heightened during this time, Sagittarius. Use this energy to dive into new areas of learning and exploration. Consider taking a short course or workshop in something that fascinates you. Meditate with a piece of labradorite to activate…
Mar 26, 2023 - This could turn out to be one of the most romantic days you've experienced in a while Sagittarius, so do your best to make use of it. The primal Sun is moving through Aries and your 5th House of romance and pleasure, meaning you're…
More Horoscopes for Sagittarius
You are looking for or needing harmony and balance in a situation when the Temperance card appears. But this is not a negative connotation. The Temperance card appears in the Tarot after The Death card, and this is sending us the call for balance and peace after a stressful situation. In most cases, the balance…
Let These Tarot Readings Help Guide You Through Your Day
Daily Gemstone & Crystal Reading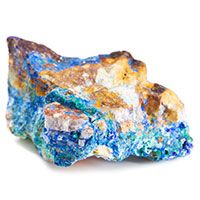 Azurite is known to help when we are dealing with emotional issues, confidence, and the feeling of impatience. Sometimes we lose touch with our ability to be kind and to feel comfortable within our own skin or within our surroundings. Sagittarius and Aquarius can feel particularly left out from time…