Sagittarius Daily Horoscope: Tomorrow

Sep 27, 2023 - This day is going to feel a little all over the place for you, but what I think is important to establish right now at the start is the simple fact that mundane matters won't be of huge importance to you right now. There's a lot going on overhead, mainly the Moon moving through Pisces and you foundational 4thHouse of home and family, and while she's here she's going to put the focus on your own inner emotion ocean rather than any mountains to climb.
This potent energy is amplified ten times over by the fact that throughout the day la Luna will conjunct karmic Saturn in this same sector of your chart, so it looks like you're going to have some deeper issues to attend to than just going through the motions. Focus on work another day, and focus on yourself and your needs for the time being.
Sep 27, 2023 - Do you know how to just relax with your partner at home and still manage to enjoy yourself just as much as if you were to go out and do something fun? Is it easy or hard for you to be in stillness with…
Sep 27, 2023 - How much do you allow yourself to rest? Do you permit yourself time to just be, relax and rejuvenate? The Moon is in Pisces and in your 4th house, and is asking you to reflect on those things. If you're the kind of person…
Sep 27, 2023 - The more you trust in yourself, the more you will attract golden opportunities. This is a day for positive manifestation! It's not always easy seeing things from a new perspective but this lunar energy calls you to do exactly that. In what ways can…
Sep 27, 2023 - During this Moon in Pisces transit, you may find yourself feeling particularly imaginative and intuitive. Take some time to connect with your spiritual side and explore your creative interests. Engage in activities such as painting, meditation, or yoga to nurture your soul. Sagittarians have…
Sep 27, 2023 - This day is much more about you than anyone else, so don't let someone push you into a corner when you'd rather be safe in your own bed by yourself. The intuitive Moon is in Pisces and your foundational 4th House of home and…
More Horoscopes for Sagittarius
The 6 of Pentacles is another one of those dreaded "stage" cards in the Tarot. But it's not to be dreaded, really. The Tarot always tells us what we need to hear. A "stage" card in Tarot is when there is a line at the midpoint of the card that illustrates a grey area. This…
Let These Tarot Readings Help Guide You Through Your Day
Daily Gemstone & Crystal Reading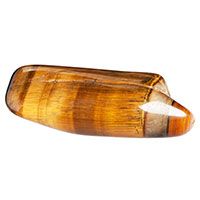 If we are looking to motivate ourselves to make a change or a commitment or are feeling depressed and self-critical, working with or keeping Golden Tiger's Eye near can provide protection and help us to find some sense of balance. Its warmth and brightness, both visually and vibrationally, can help…