Sagittarius Daily Horoscope: Tomorrow

Dec 06, 2022 - It may be Tuesday and perhaps you do or don't have a lot to focus on at the moment, Sagittarius, and if there is indeed no work in front of you then that is great–you can take the day off to enjoy yourself. However, IF you do find yourself having to roll up your sleeves and put your nose to the grindstone there is one bit of advice to can pass on from the Universe to make the whole process that much more pleasant.
The Moon is spending the day moving into Gemini and your 7th House of partnerships and business contracts, so if you must get to work the best way to do it would be to form a dynamic duo with someone you trust and then have at it. You tend to go things alone and rely on your solo self to get the job done, but right now take the stars' advice and lean into some powerful partners, be they romantic or platonic.
Dec 06, 2022 - The Moon is in Taurus and in your 6th house today, however it is also trining Pluto in your 2nd house. It is a natural part of every successful relationship that they require hard work and devotion, especially in the day to day interactions…
Dec 06, 2022 - How disciplined are you in the way you go about your work? Are you able to maintain the focus necessary to take care of and manage all the details that need tending to? These are all questions to ask yourself today as the Moon…
Dec 06, 2022 - Under this Cancer Moon, communication is positive today, Sag, and finances may be a topic of discussion. It's important to express your plans clearly and concisely. What are your goals and aspirations? How can you work with others to achieve them? It's important to…
Dec 06, 2022 - You feel more hopeful and attached to ideas of the future today, Sagittarius. Engaging with your fantasies and your desires can help you attract the things you've always wanted. Try making a vision board or a list of everything you want to manifest in…
Dec 06, 2022 - Today is about the people in your life, Sagittarius, so even if it is a Tuesday and you have work in front of you why not take any opportunity to sneak out of the office early and hit the town with a special someone…
More Horoscopes for Sagittarius
Let These Tarot Readings Help Guide You Through Your Day
Daily Gemstone & Crystal Reading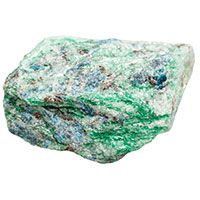 Fuchsite is often associated with healing, loving energy due to this green hue and its ties to the Heart chakra. This crystal allows us to find our inner light and release negative emotional energy, which allows those who use it to become more compassionate and forgiving in our relationships. Due…