Apr 02, 2023 - Money matters could cause some tension today, but while there is a problematic transit overhead it is technically a short one, so hopefully you feel the pull for no more than a couple hours at most. Let me explain.
The intuitive Moon is moving through your intense 8th House of lump sums and other people's money. This is always a great time to gain greater clarity around your finances, but today la Luna will form a tense opposition to karmic Saturn in your 2nd House of earned income.
Under this transit issues of what is yours, what is mine, and what is ours could come up for inspection, so if issues of ownership are on the table do your best to remain diplomatic because causing a scene won't help anyone out and it will just leave you feeling like an idiot when the Moon moves on and the problem blows over.
Apr 02, 2023 - Is it easy for you to experience intimacy with your romantic partner? What are the things that scare you the most in your partnership that may be preventing you from experiencing as much closeness and depth with your lover? Ask yourself these important questions…
Apr 02, 2023 - What is the current nature and condition of your joint financial partnerships and investments? The Moon is in Virgo today and in your 8th house, and it is asking you to reflect just on that. Do your investments give you back as much as…
Apr 02, 2023 - Today brings the chance to think about your finances at a deeper level, Aquarius. You may find unexpected feelings rising to the surface and may even have a financial dream which can be very revealing. Take time today to unwind and assess everything that…
Apr 02, 2023 - You may feel more frustrated than usual today, Aquarius, making it harder for you to get along with others. There can be conflict with this planetary influence, so try to remain compassionate with yourself and others. Yoga and meditation will help you find the…
Apr 02, 2023 - This could be a very intense day, and while there might be a little hiccup here and there, I think if you navigate carefully you should be able to come out on the other side with a very pleasant sense of satisfaction. The emotional…
More Horoscopes for Aquarius
On the one hand, the Knight of Pentacles is in no rush, not in a hurry to get anywhere. But on the other, the road ahead of the Knight and the red laurels on his dress and horse indicate he is ambitious and has a bright future ahead. When the Knight of Pentacles appears, the…
Let These Tarot Readings Help Guide You Through Your Day
Daily Gemstone & Crystal Reading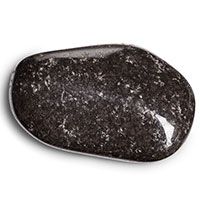 Known for its properties of encouragement, strength, and protection, Onyx connects very closely to our primary chakra, the Root chakra. This is because both Onyx and our Root chakra connect to our sense of safety, security, and our physical identity or sense of self.  The properties of this crystal are…