Apr 02, 2023 - There is a very strong one-step-forward, two-steps-back energy to the day, but if anyone should be able to handle the planets keeping them on their toes it would be you. The intuitive Moon is moving through your 2nd House of earned income and material wealth, and while she's here she's orienting your focus towards all things financial and physical, from the paychecks you take home to the things you buy with them.
This is normally a great time to get clear on your money and perhaps find a few ways to make some extra cash while you're at it, but today la Luna will form a harsh opposition to karmic Saturn in your 8th House of other people's money and that could leave you reeling for a hot minute. Perhaps a bill pops up you totally forgot about, or the paycheck you just cashed has to go almost entirely to X, Y, or Z cause and you're more than disappointed by how much is left over.
Don't worry, this is only temporary and the planets won't take away your golden ticket in the end.
Apr 02, 2023 - Do you feel that your romantic partnerships bring you closer to your values? Does your partner have values that are in alignment with yours? These are necessary questions to reflect on today as the Moon is in Virgo and in your 2nd house. It…
Apr 02, 2023 - Are you satisfied with your current financial situation? Are you making as much money as you want to through your work? These are good questions to ask yourself today as the Moon is in Virgo and in your 2nd house of finances and personal…
Apr 02, 2023 - There are positive plans on the horizon for you, Leo. Trusting yourself is important at this time. Think about your plans in the long term and don't make any hasty financial decisions today. This is a time for careful planning and understanding of your…
Apr 02, 2023 - It might feel harder for you to remain relaxed and balanced today, Leo, as this planetary influence brings heavy moods and emotions. Plan on taking some time for self-care today because your body and your mind need the attention. Yoga and meditation will help…
Apr 02, 2023 - Things could get a little intense today, so let's just establish that right off the bat. The intuitive Moon is moving through your 2nd House of material security and wealth, so you're not looking to feel pulled out of your comfort zone on a…
On the one hand, the Knight of Pentacles is in no rush, not in a hurry to get anywhere. But on the other, the road ahead of the Knight and the red laurels on his dress and horse indicate he is ambitious and has a bright future ahead. When the Knight of Pentacles appears, the…
Let These Tarot Readings Help Guide You Through Your Day
Daily Gemstone & Crystal Reading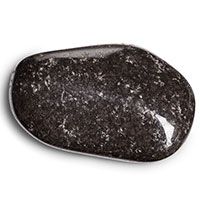 Known for its properties of encouragement, strength, and protection, Onyx connects very closely to our primary chakra, the Root chakra. This is because both Onyx and our Root chakra connect to our sense of safety, security, and our physical identity or sense of self.  The properties of this crystal are…