Pisces Money Horoscope: Tomorrow

Oct 02, 2023 - This is a time to bring a great shift in thinking and deeper understanding of your finances. Under this lunar energy, this is a powerful time for understanding yourself at a deeper level and recognizing where you may need to shift your thinking when it comes to finances.
How are your finances having a negative impact on you? Much of the time, it is the mindset that needs to change and so it is a good idea to consider how your mindset may be detrimental to you.
The crystal sodalite is wonderful for helping you realize things with greater clarity. Think of how you can make changes at this time. This is a time to embrace all that is, as well as to keep your options open. Trust in yourself, above all.
More Horoscopes for Pisces
There is a definite feeling of being trapped when the 8 of Swords appears in your day or in your reading. This could be an issue of physical entrapment, such as with matters related to the law or justice, as Swords often deal with legal matters. But Swords also deal with thoughts and words, so…
Let These Tarot Readings Help Guide You Through Your Day
Daily Gemstone & Crystal Reading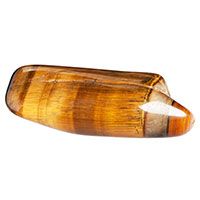 If we are looking to motivate ourselves to make a change or a commitment or are feeling depressed and self-critical, working with or keeping Golden Tiger's Eye near can provide protection and help us to find some sense of balance. Its warmth and brightness, both visually and vibrationally, can help…